Remember the days when real estate tycoon Donald Trump love Mac Miller for his song "Donald Trump"?
Well those days are over because earlier today Trump  sent a series of legally threatening Tweets towards Pittsburgh rapper regarding  the hit single "Donald Trump," which has garnered Mac Miller over 75 million views today.
Now that the song is a hit the Don wants his piece of the pie. He is demanding royalties associated with the song for using his name and likeness, Trump referred to Mac Miller as "Little @MacMiller" as he threatened the rap star with a lawsuit.
Can someone yell out GREEDY ASS?
Donald Trump Tweeted:
"Little @MacMiller, I'm now going to teach you a big boy lesson about lawsuits and finance. You ungrateful dog!" 
The threats come shortly after a clip with Mac Miller and Complex Magazine owner Mark Ecko dubbed  Miller Complex's Man of the Year.
In the interview, Mac Miller and Ecko voiced their displeasure for Donald Trump.
Mac said in the Complex video:
"I think he's a d**k."

 "I f**king hate Donald Trump." 
Mac added:
"When he started running for president I was like, 'Oh, f**k—this is horrible, I have a fu**ing song with this dude's name and now he's being such a douchebag.'" 
Mac's choice words for Trump were apparently surprising to Donald Trump, after he created a video co-signing the song and saying that Mac was next Eminem.
Mac Miller said in the interview:
"The thing that bothers me the most is that he always says things like, '75 million views on the song 'Donald Trump,' Mac Miller you're welcome,"

 "I could've said, 'Take over the world when I'm on my Bill Gates s**t.' It doesn't matter. That s**t just pisses me off."
Trump Twitter RANT: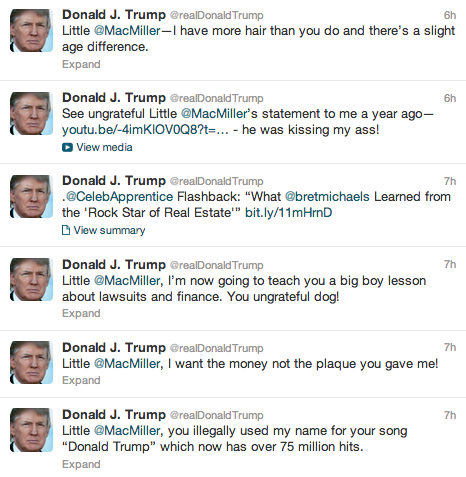 CelebNMusic247 brings you latest news on celebrity daily…Stay connect:
Stay Connected to CelebNMusic247.com: Follow us on Twitter – Like us onFacebook and Friend us on YouTube 
Related articles