Hip Hop legends De La Soul have been at war with their old record label Tommy Boy Records!
Things have NOT turned out in favor of De La Soul since they're accusing Tommy Boy's boss Tom Silverman of robbing them for years. Read on…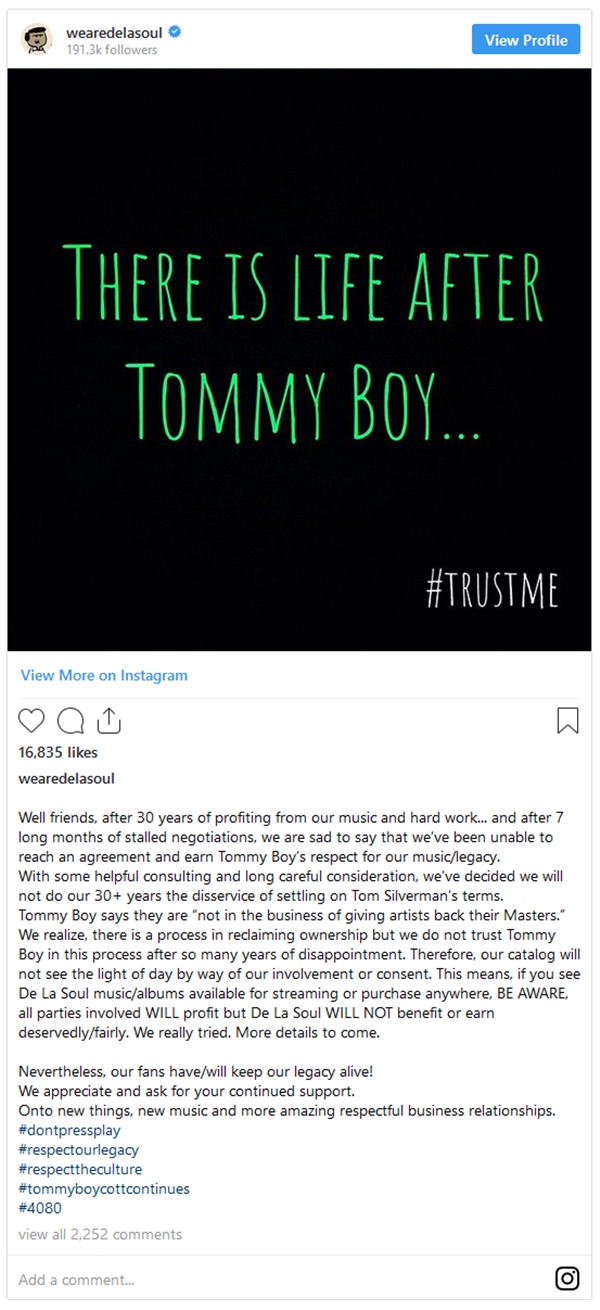 CelebNMusic247.com has learned that De La Soul is basically being screwed by Tommy Boy's boss Tom Silverman who has been hoarding 90% of the profits from their early catalog, leaving the group just 10% to split amongst themselves.
After months of back-and-forth, streaming talks with the group's former label Tommy Boy Records, De La Soul as canceled negotiations over the release of their catalog to streaming services.
De La Soul points out, "all parties involved WILL profit but De La Soul WILL NOT benefit or earn deservedly/fairly."
The group was getting ready to commemorate the 30th anniversary of their groundbreaking release 3 Feet High and Rising, but the plans were abruptly scrapped over a business conflict with Tommy Boy's Founder, Tom Silverman.
De La Soul member Dave (fka Trugoy the Dove and née David Jude Jolicoeur) in a statement posted to Instagram:
Well, friends, after 30 years of profiting from our music and hard work… and after 7 long months of stalled negotiations, we are sad to say that we've been unable to reach an agreement and earn Tommy Boy's respect for our legacy. With some helpful consulting and long careful consideration, we've decided we will not do our 30+ years the disservice of settling on Tom Silverman's terms.
Dave continued to explain:
Tommy Boy says they are "not in the business of giving artists back their Masters." We realize, there is a process in reclaiming ownership but we do not trust Tommy Boy in this process after so many years of disappointment. Therefore, our catalog will not see the light of day by way of our involvement or consent. This means if you see De La Soul music/albums available for streaming or purchase anywhere, BE AWARE, all parties involved WILL profit but De La Soul WILL NOT benefit or earn deservedly/fairly. We really tried. More details to come.
In closing De La Soul said:
Nevertheless, our fans have/will keep our legacy alive! We appreciate and ask for your continued support. Onto new things, new music and more amazing respectful business relationships.
This is sad.