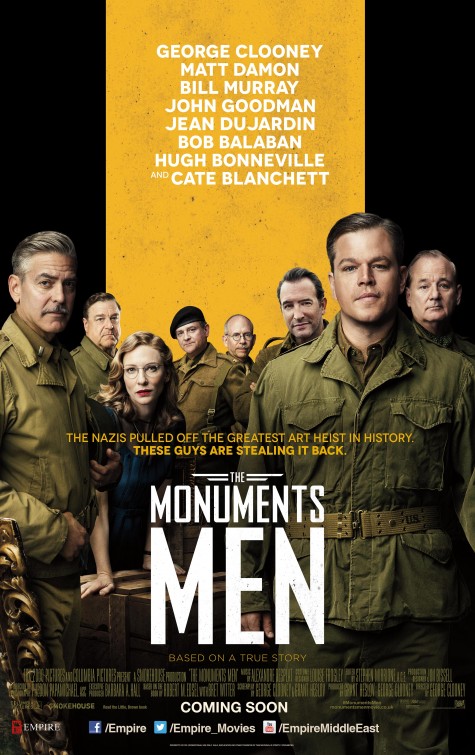 (CelebNMusic247-News) Clooney and Damon in The Monuments Men
George Clooney and Matt Damon star in the upcoming war film The Monuments Men.
Synopsis:
Based on the true story of the greatest treasure hunt in history, the film is an action drama focusing on an unlikely World War II platoon, tasked by FDR with going into Germany to rescue artistic masterpieces from Nazi thieves and returning them to their rightful owners. It would be an impossible mission: with the art trapped behind enemy lines, and with the German army under orders to destroy everything as the Reich fell, how could these guys – seven museum directors, curators, and art historians, all more familiar with Michelangelo than the M-1 – possibly hope to succeed? But as the Monuments Men, as they were called, found themselves in a race against time to avoid the destruction of 1000 years of culture, they would risk their lives to protect and defend mankind's greatest achievements.
Check the trailer:
Did you Know this about The Monuments Men?
The Nelson-Atkins Museum of Art in Kansas City employed several of the people portrayed in the new movie, "The Monuments Men," which tells how they worked to save art threatened during World War II.

Under orders from President Franklin D. Roosevelt during World War II, men and women in the Monuments Men program saved more than 1,000 years of culture from the Nazis and others. The Nazis stole millions of European masterpieces, and as Hitler's regime began to fall, the German army had orders to destroy the artworks. In Asia, ancient art was also left vulnerable to invading armies and looting.

"The Monuments Men" movie, which opens Feb. 7, is based on the book "The Monuments Men: Allied Heroes, Nazi Thieves and the Greatest Treasure Hunt in History" by Robert Edsel. George Clooney co-wrote and directed the film. He also stars with Matt Damon, Bill Murray and John Goodman.

Edsel told The Kansas City Star:

"The Monuments Men are a group of museum directors, curators, art historians and artists — men and women who volunteered for service to be a new kind of soldier, one charged with saving, and not destroying." 

Six of the more than 300 men and women in the Monuments Men program either worked for the Nelson-Atkins Museum or had strong ties to the museum. – Stripes
The Monuments Men opens in Theaters on February 7, 2014.
Related articles