Sorry to say but Chris Darden should have NEVER accepted the task of representing Eric Holder, the man who killed Nipsey Hussle.
We previously reported that Eric Holder stood over Nipsey like a vulture and when the "Rack in the Middle" rapper was hinted he was still alive, Holder fired more shots execution style. The whole thing was caught on surrounding surveillance cameras, but Chris Darden entered a 'NOT Guilty plea' for Eric Holder which is disgusting.
Now, Chris Darden's daughter has been getting harassed for her father's wrongdoings. Read on…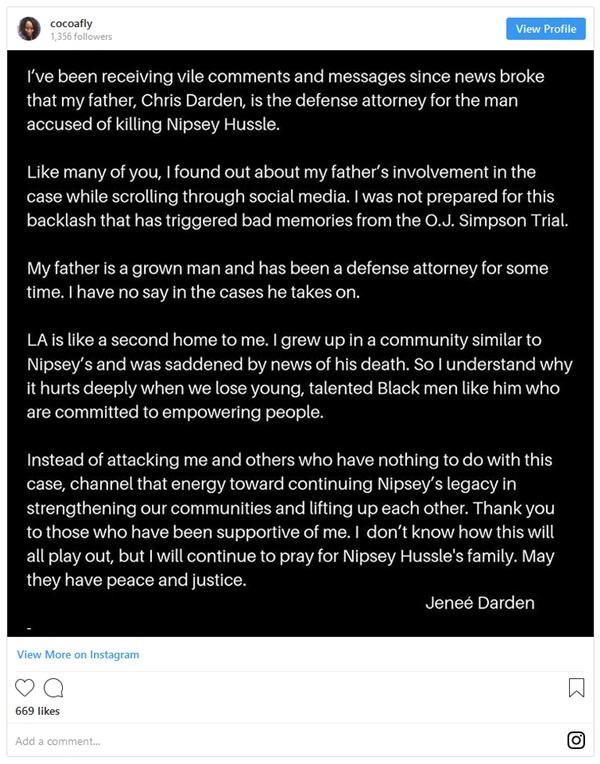 The infamous prosecutor from the O.J. Simpson trial, Chris Darden, is now facing major criticism and backlash for his desiscion.
In addition to him, his family has also suffered the consequences in the process.
The latest victim is Darden's daughter Jeneé Darden.
Jeneé stepped onto social media to the clear the air in response to the alleged "vile comments and messages."
She penned in a post on social media (seen above):
Jeneé Darden states:
Like many of you, I found out about my father's involvement in the case while scrolling social media. I was not prepared for this backlash that has triggered back memories from the O.J. Simpson trial. My father is a grown man and has been a defense attorney for some time. I have no say in the cases he takes on.
Chris Darden's Daughter went on to express her condolences for Nipsey's family and reiterated that her's father's legal career does not have a direct correlation with her own personal beliefs.
Following the news of Nipsey's tragic death, Jenee took to social media to say this:
When our Black men are taken from us, the women left behind have to carry a different weight of grief.
I feel bad Lauren London is going through this. As she grieves, she has to be strong for her children. I hope she has support. When we go learn to stop killing each other? #NipseyHussle
We still question why would Chris Darden defend a murderer like Eric Holder?
Thoughts?