This is different, Wendy Williams is a hot topic. She is back in the hot seat about her husband Kevin thanks to Family Matters star Cherie Johnson, who played Maxine on the 1990s sitcom.
According to Cherie Johnson, Wendy Williams husband Kevin has allegedly knocked up his mistress for a second time. And wait until you get the tea on her fractured arm. Read on for the tea spill…
CelebNMusic247.com reports that former Family Matters star Cherie Johnson took to Instagram for an EPIC SHADE to Wendy Williams.
Wendy Williams is NOT gonna take to kind to this tea and it's juicy!
Ok, so here is what we learned from Cherie Johnson:
According to Cherie Johnson, who shared some harsh words with the talk show maven regarding her husband's alleged love child and mistress.
In a post titled "Advice For My Sistas," she shared her thoughts on the rumored infidelity and issued some direct advice to Williams and boldly shaded her in the process.
Cherie starts off with a nasty tone toward the talk show host saying:
This is my last ain't-s**t, talkin' s**t post of 2018. Hey, Wendy, I heard that your husband got his mistress pregnant for the second time and you about to play stepmama again. Now, it seems like Kevin got that super-sperm. How come you ain't gettin' pregnant? Oh, that's right. How you don', William? Karma's a b***h. You need to leave people alone in 2019. Find Jesus. Be a nicer person.
The SHADE didn't stop there, she has more harsh words for Williams, who s currently on holiday hiatus.
Johnson insinuates that Hunter physically abuses Williams, saying:
How's that arm doing @wendyshow so I heard it was domestic Violence?? Don't worry Stepmother you matter too…. #Karma #adviceformysistas #Adviceformysistablog.
And if that wasn't enough 50 Cent apparently has no love for Wendy either because he basically called her "the most famous side chick."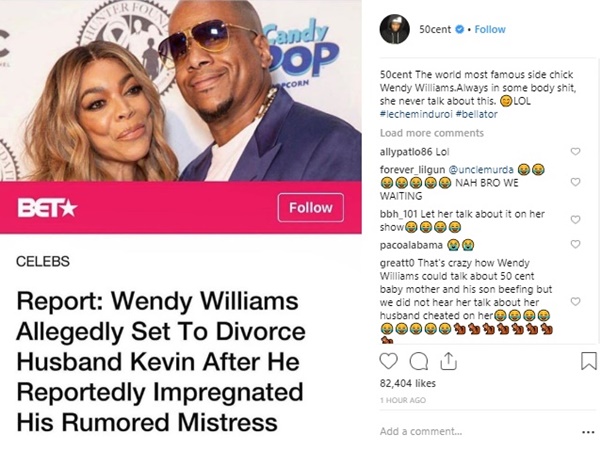 Then there is Love & Hip Hop pain in the A, Masika Kalysha who RIPS Wendy with a post she said she'd soon delete: