On April 27th Chicago native Chance the Rapper issued an apology for the timing of his comments.
Chance the Rapper also stated that its not his job to defend or protect Kanye West following Kim Kardashians husbands support of the reality TV President. Read on to see what he had to say…
CelebNMusic247.com has the latest on Chance the Rapper, who said on April 25th:
Next President gone be independent!
He continued support of the Republican President stating:
Black people don't have to be Democrats.
That is great Chance feels that way, but he is a little green to actually think people will follow his dead end thoughts. Chance and Kanye are utterly foolish, but that hasn't stop either of them supporting the reality TV President.
On Friday, Chance made it clear that he doesn't support Trump after Chump Tweeted a "thank you" on social media.
Here is what Trump posted after Chance wrote the above statement, "Black people don't have to be Democrats."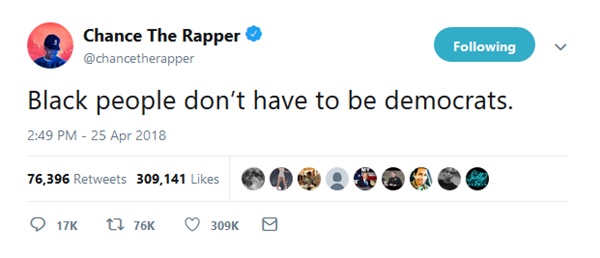 Chance rejected the tweet below from the US President who has no filter: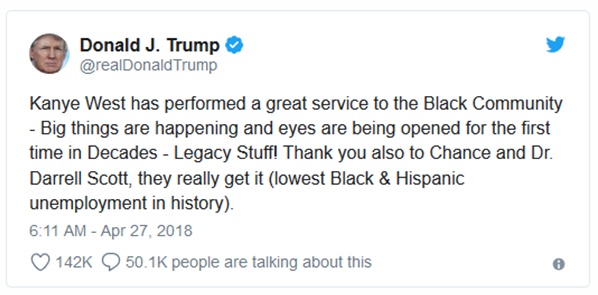 He followed his rejection of Chump explaining that he supports Kanye West, who is under fire for expressing affection for the President because he's "family."
Chance took responsibility for his mistake, saying "My fault yo!"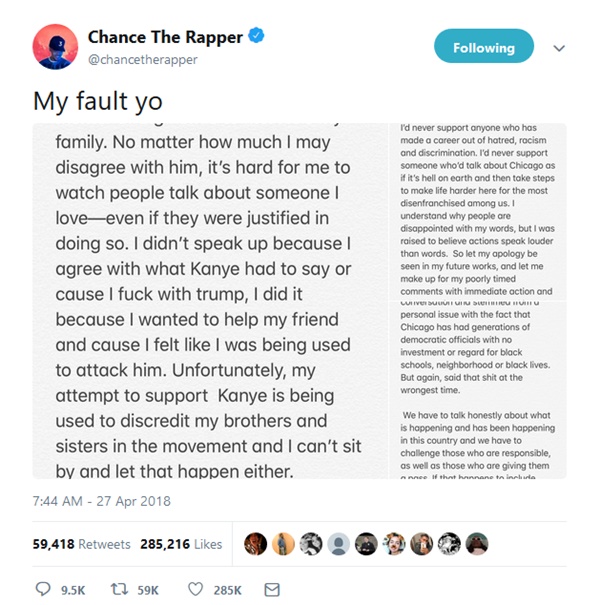 He added that Trump doesn't get it saying:

What throws all of us off is Chance The Rappers comments early last week stating "Black people don't have to be Democrats." That is all Kanye needed to take to Twitter to piss off everyone in the music industry. Snoop Dogg had nothing nice to say and blamed Kim Kardashian for the root of his problems. While Macy Gray and others weighed in on Ye.