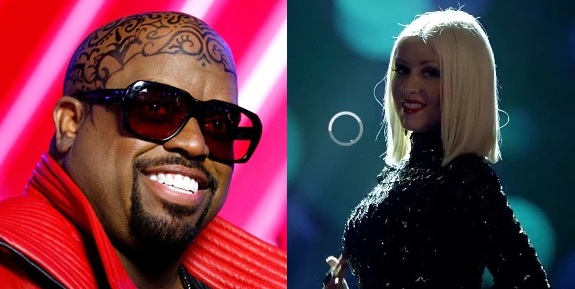 Cee-Lo and Christina Aguilera Back on the voice with new looks and new attitudes!
Have you been watching The Voice since it premiered on Monday night?
Well let us catch you up because Cee-Lo Green and Christina Aguilera are back on The Voice for the fall season, but guess what he did to his head.
On Monday night's 5th season premiere of The Voice, Cee-Lo debuted his most craziest look yet- a full head of ink. The "F*ck You" singer has apparently added a full head tattoo to his unique look!

We're NOT sure if Cee-Lo's new hairstyle is an actual permanent tattoo or that its temporary, but here's our take. Not only Green's Ink happen awfully fast, but the boldness of the color suggests it's probably not ink but popular organic dye henna.

While on the flip-side, Christina Aguilera trimmed down a lost weight for the new season of The Voice, and on the premiere she had no problem showing it off. Christina made sure to get up at least 10 times to show her new bod off and we weren't mad one bit.

From rocking with Adam Levine to standing in her chair applauding Christina is a 10! You go girl!
Check the pics:
Related articles