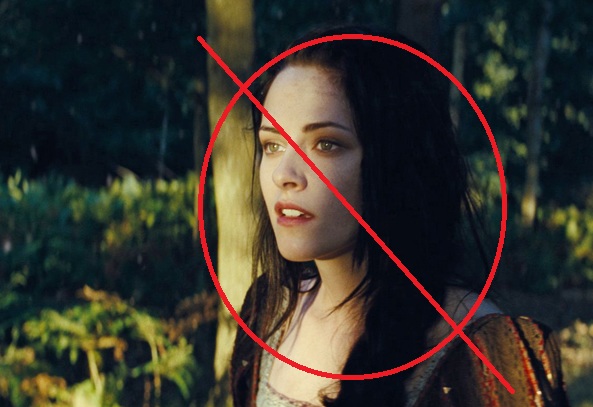 (CelebNMusic247) It seems Kristen Stewart and Chad Ochocinco have one thing in common and that is screwing up their careers.
After  Twilight star Kristen Stewart was  caught red handed with Snow White and the Huntsman director Rupert Sanders  the sh*t has hit the fan.
Thing have mostly been personal up until this point.
However, earlier this week that Stewart had been dropped from a planned sequel to "Snow White," the studio behind the picture, Universal, weighed in on Tuesday and said the actress may still appear in the follow-up.
According to the Los Angeles Times, Universal has insisted that plans for a second film focusing on Chris Hemsworth's Huntsman character and Stewart's Snow White are proceeding apace.

Both Stewart, 22, and married father of two Sanders, 41, issued public apologies? last month after pictures surfaced of the two kissing in public.

Universal said it has yet to settle on a writer or director for the second Huntsman movie, though first-time feature filmmaker Sanders is still on the list of possible candidates.

While the Hollywood Reporter revealed an exclusive story claiming that Universal had decided to shelve plans for a "Snow White" sequel and instead focus on a solo Huntsman spin-off movie starring Hemsworth.

The sequel would NOT involve Kristen Stewart at all.
Though it is unusual for studios to drop major stars of franchises between the first and second installments of film series, especially since Universal's original plan was to make two films with the Snow White character and then a third that would spin-off the Huntsman.
But fingers are pointing at Rupert Sanders wife, who seems to have forbid him from ever working with Kristen Stewart again. Basically if he is attatch to the sequel she will NOT be.
K-Stews spokeperson told MTV News:
"The studio is exploring options to continue the franchise and no decisions have been made."
In other news, K-Stew dropped out of the Nick Cassavetes film "Cali" in the wake of the scandal.
Maybe she'll think twice about sleeping with a married man next time?
Follow CelebNMusic247.com on Twitter – Like us on Facebook and Friend us on YouTube
Related articles