Apparently, Nicki Minaj decided to shed some light, or shall we say school Cardi B about her man Offset! The only problem is that Set was NOT pleased with any of it, so he FIRED SHOTS back at Minaj aka Chun Li!
Over the Memorial Day holiday, Nicki Minaj and Offset got into a spat on Twitter leaving Nicki to open up class for those who need to be schooled. Read on…
CelebNMusic247.com got word about a one minute fued between Migos frontman Offset and Nicki Minaj. Cardi B will be the first to tell you she doesn't have any issues with Nicki Minaj anymore, it looks like there may be some behind-the-scenes drama.
Let's not forget that Nicki Minaj and Migos have been friend way before Cardi B stepped into the music game. However, Cardi is here now and she is wearing the rock Offset bought her because they are in love, having a baby and about to jump the broom, whenever Mona Scott-Young sets the air date for another hip hop wedding we'll all be missing.
Anyways, the Pink Friday artist tweeted some motivational thoughts to her fellow queens to know their worth! Offset, showed his guilt by responding to Nicki's post believing that he was sticking up for his wife as he may have believed that they were under attack.
The "Chun Li" rapper set off Offset with this post: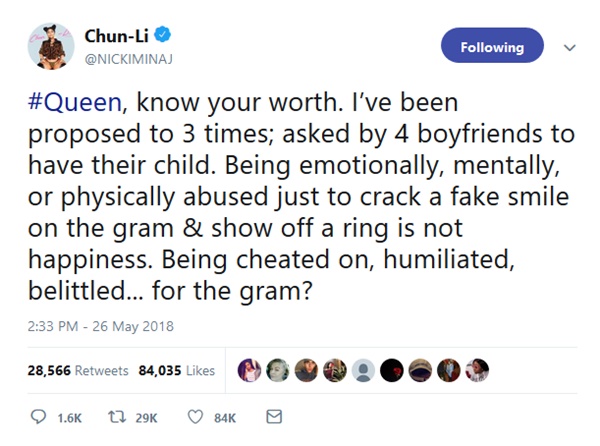 Nicki basically aired some of her dirty laundry, onlyt to be attacked by Offset.
Offset seemingly fired back at Nicki, writing:
"Miserable," with a crying emoji.
Set followed up by saying:
A lot of people want t b happy like me n wifey @iamcardib B U T T H E Y N O T.
He continued:
SINCE WE MET MF BEEN HATING EVERYBODY GOT AN OPINION GOD BLESS AMERICA ALOT EVIL OUT HERE ALOT OF HATE NO LOVE SHIT CRAZ!
It certainly appears as though Offset's posts could be directed at Nicki. However, the Queen Barb's fans seem to be unanimous in thinking Offset was coming for Nicki with the Tweet/deletes.
What do you think? We have a feeling there is way more to this story they don't want in the public. Well, just NOT yet.