Have you heard, Cardi B's former manager Shaft is suing her for $10 million. Shaft is claiming that "Bartier Cardi" breached her contract and more.
Read on to get the tea spilling on Cardi B vs her former manager Shaft, and see what she is saying about the lawsuit…
CelebNMusic247.com has some tea spilling today when it comes to Cardi B and her former manager Shaft, who took her from the pole to the mic.
According to Shaft (real name Klenord Raphael), he was the one who brought Cardi B to Mona Scott-Young and made her a household name. He claims that he orchestrated her relationship with VH1's "Love & Hip Hop." Before that, she was just Instagram famous.
In the lawsuit first reported by TMZ, he claims in a new lawsuit, he taught her the ropes of the music biz. Not only that, Shaft says his contacts and personal team of writers and producers are responsible for her megahit, "Bodak Yellow."
Shaft goes on to allege her monster hit allowed her to secure major record and publishing deals worth millions.

He's also claiming she defamed him by telling her fiance, Offset, and others he robbed her blind. Shaft says last December, Offset texted him and said, "[U] better stop play acting like u don't know u taking her sh** from her u a snake. U can't hide from me N**** and u not bout to play my WIFE."

Shaft blames Cardi's makeup artist/publicist for poisoning her against him.
Shaft's rep reveals:
Since discovering Cardi B in 2015, Shaft has played an integral role in developing her music career and public image. While he is proud of their successful collaborations as she evolved from Instagram influencer to music megastar, Shaft is disappointed by her actions to freeze him out of her career, which are detailed in the complaint.
Cardi and Offset apparently sent text's to Shaft saying: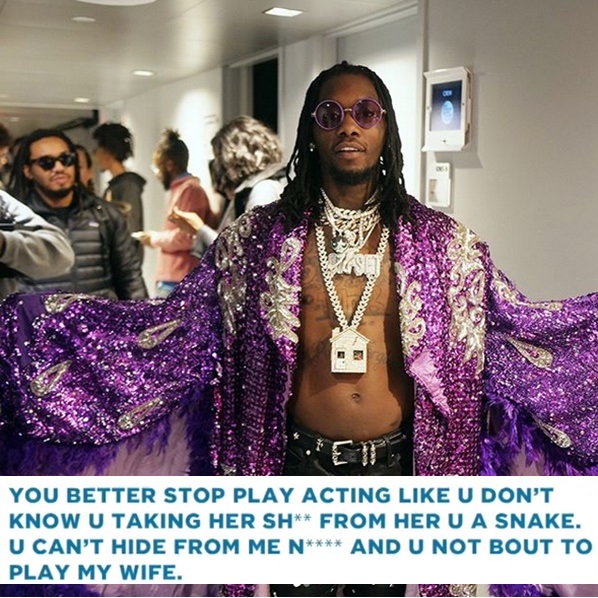 Take a look at the court documents first published by the Hollywood Reporter here.
Cardi B's attorney Paul LiCalsi is now responding to the claims and this is being said:
Paul LiCalsi, a partner at Robins Kaplan LLP said:
After a full investigation of the facts, we will be responding to these allegations in detail in court. But even on its face, Shaft's claim raises a huge question. For a hefty commission, a manager promises to carefully counsel and guide an artist in her or his career. In exchange, the law imposes a high fiduciary duty on the manager to always act in the artist's best interest, not engage in conflicts of interest, not overreach, and not self-deal.
Here is where things get messy and why Cardi and Offset were seen calling him a SNAKE on Twitter:
LiCalsi suggests that Shaft signed on as Cardi B's manager for a 20 percent commission, then signed her up through a different company in a "deal that takes 50 percent of her music royalties from Atlantic Records, 50 percent of her music copyrights, and 25 percent of her other earnings."
Sorry to say, but that is a snake deal!