At the moment, Cardi B is one of the leading women in rap music but during a promo for Netflix's Rhythm + Flow series, the "Bodak Yellow" hitmaker talked about her impact on modern Hip Hop.
During the interview Cardi B says that "I didn't say I pave the way for female rappers but I deff gave the hood and women hope." Read on since Cardi B Gave Female Rappers Hope…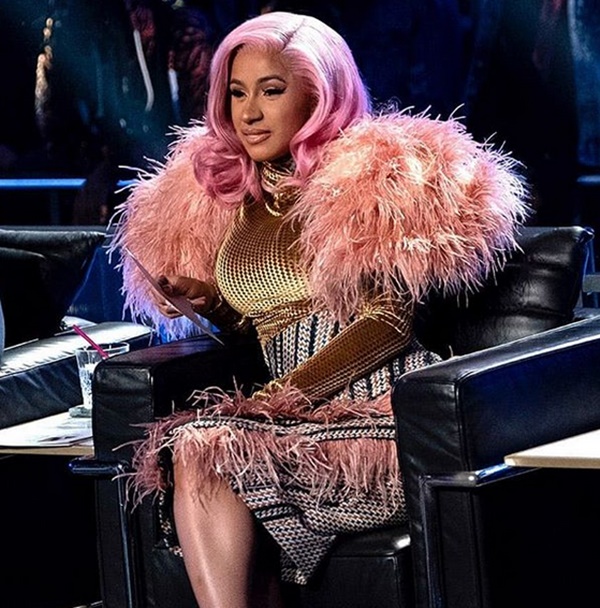 CelebNMusic247.com reports that Cardi B spoke with the Rap Radar podcast promoting her part in Netflix's Rhythm + Flow series stating that before her 'no female rapper were signed to a label."
Cardi B says:
Before me, there was no female rapper that was signed to a label. Well, you know, the ones that had been established. Nobody was signing them. Now, everybody's just signing them if you can rap and you got a couple of followers because nobody wants to miss the opportunity like a lot of labels and people missed the opportunity with me.
Before Cardi, there was Nicki Minaj, Lil Kim, Salt N Peppa, Queen Latifah, Remy Ma, Missy Elliott, Trina, YoYo, Lady of Rage, and many more before her all signed to labels. What she means to say that females who were once strippers, video vixens, Instagram THOTTIES and some legit female rappers grinding who wanted a rap career are now getting a chance.
Why Cardi B Gave Female Rappers Hope; and why She Didn't Pave The Way:
Her comments apparently bothered some people, so the Bronx native went to Twitter to address her critics. Cardi clarified that she did not suggest that she paved the wave for female rappers. Though, the Atlantic recording artist doubled down on her point about changing the landscape for women in mainstream rap.
Cardi took to Twitter stating:
I didn't say I pave the way for female rappers but I deff gave the hood and women hope. Nikkas wasn't collabing with females rappers. Labels where signing female rappers and putting them on a shelf and not focusing on them. Not giving them proper attention. It seems like it was impossible for it to be more than one female rapper. These male rappers where not even takin Money from female rappers for a feature cause it seem far fetch for another woman to make it. I see so many male artists collabing with females now even. Some that are not mainstream because I know they don't want to miss out on the opportunity in case they make it cause trust and believe slot of Nikkas I asked for features from when they see me they tell me "I should believe" Deum I should have done the feature. And ya can deny it as much as ya want and say I'm crazy or stuff but how many female rappers before me were getting chances or getting pushed? They weren't believing and now they are! And for the slow ones again NO ain't made females want to rap cause b*tches been rapping b*tches been had talent but the music industry wasn't believing and sh*tting on female rappers and that's Big Bentley.
Cardi then began directly responding to Twitter users that took issue with what she had to say about the topic.
She wrote:
I'm Lying? So you tell me what rappers were giving features to female rappers? What label was pushing a female rapper? What tv music show was inviting female rappers? Only 2 female rappers for years and one ain't last too long…now you tell me! I wanna see something? No matter how I would have worded it people will always find a way to flip it & make it negative cause they hate cardi but yet they still can't find me a magazine, a big festival, a male-female rapper collar that happens between 2008-2017 expect for 1 female rapper. Ya comprehension skills must be on slow cause I never discredit anybody. There have been females rappers b4 I was born it died out due to hope and it got revive back in 08 & the music industry made it a stigma as there could only be 1 & now there's plenty striving.
A Bardi Gang member created a Twitter thread displaying new female rap acts City Girls, Megan Thee Stallion, and Lizzo praising Cardi for opening doors in the culture. Since Cardi has become a hip hop sensation she has opened the door for female rappers like Kash Doll, Saweetie, Doja Cat, Rico Nasty, Dreezy, Tierra Whack, DreamDoll, Asian Da Brat, Stefflon Don, CupcakKe, and Maliibu Miitch. All of these women has received considerable exposure on a national level, but will they last in the rap game still remains unknown.
Here is what they have to say about Cardi opening the door:
just one more thing and I'm done with this conversation all together but there's definitely videos of women saying that Cardi's come up has inspired other females to want to come in the rap game too. it's all truth to it.

— fan account (@hosthetics) October 23, 2019
In the tradition of music, 1% of these women will succeed and remain the standout. Currently, the standouts are Lizzo, Megan Thee Stallion, and City Girls. The other two that have a chance are Saweetie and Stefflon Don. We will see who is still around in 2022, 3-years from now.
Do you agree that Cardi B Gave Female Rappers Hope?
Check Cardi's Tweets: