BottleRock Napa Platinum and VIP Available
Do BottleRock Napa Music Wine Food Festival the right way, Get a Platinum Package or VIP Package while tickets are available. Ticket details Information and more.

Expierence BottleRock Napa the right way May 30 through June 1 in downtown Napa. It's the perfect festival experience is you love great music, great wine and excellent food. Unlike the rest BottleRock Napa offer it all.
True to Napa Valley's reputation for top-notch hospitality, BottleRock also offers some incredible Platinum and VIP Passholder perks only found in the heart of wine country. Along with more than 60 artists on four stages, dozens of wineries and a fantastic restaurant garden, VIP and Platinum access provides exclusive lounges, culinary superstars, dedicated Platinum Rock N' Roll concierges and a bevy of master sommeliers and vintners serving up exclusive wines.
BottleRock Napa 2014 VIP Pass details
VIP passes offer upgraded stage viewing areas, access to the VIP Lounge with live music, lounge seating, exclusive food and drink options, VIP restrooms, a separate entry and exit gate, in-and-out privileges and parking. VIP packages spotlight Napa Valley's renowned hospitality with a touch of extravagance and creature comfort to the weekend.
BottleRock Napa 2014 VIP Pass details
Platinum 3-day or single-day passes offer offers luxurious bliss.  Platinum guests will enjoy a sensational round up of festival perks including; red carpet access with on-site parking, exclusive viewing areas at all stages, scheduled artist meet and greets and on-stage viewing access, a weekend membership to The Platinum Lounge, a quiet, cool respite from the excitement of the festival, and daily happy hours with celebrity chefs including Chef Richard Reddington of Yountville's Redd and Michelin Star Chef Ken Frank of La Toque who will prepare bites to pair with wines. If that's not enough, picture  access to vintners and Master Sommeliers with a menu of rare and hard to find wines, secure gear storage, cell phone charging stations, a massage area, a refresh and renew station, exclusive restrooms and so much more. Did we mention dedicated pre-festival and onsite Platinum Rock N' Roll concierge services?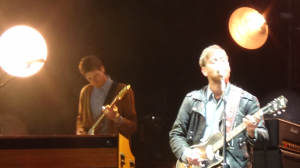 "Many festivals "import" such amenities, but BottleRock lies at the epicenter of the Napa Valley, providing VIP and Platinum pass holders the opportunity to experience unparalleled creature comforts.
"Being in the heart of the Napa Valley and wine country, we have amazing wine, culinary and hospitality talent ready to roll out the red carpet for all our BottleRock guests," stated L38 partner Justin Dragoo, President of Gargiulo Vineyards. "We have curated Platinum and VIP experiences with a unique blend of music, wine, food and hospitality that you can only find at BottleRock Napa Valley."
Ticket Information:
 3-Day VIP Passes and 3-Day Platinum Passes PROMO CODE OFFER:
3-Day VIP Passes with promo code BELIEVER are $549 and a very limited number of 3-Day Platinum Passes are available at $3000, Single-Day Platinum Passes are $1,000
Festival goers can purchases these great deals for BottleRock Napa at www.bottlerocknapavalley.com or www.ticketfly.com or charge by phone at 877.4.FLY.TIX (435.9849).
General admission 3-Day ($239 with BELIEVER promo) passes and single-day passes ($109 with BELIEVER promo) are also available.
For more on BottleRock Napa Valley, including a full lineup of 60+ artists on four stages over three days, visit the website www.bottlerocknapavalley.com to join the mailing list, join the conversation on
Make sure to use hashtag #brnv