(CelebNMusic247-News) BottleRock Announces 2014 Return May 9-11
The inaugural BottleRock Napa Valley Festival is hands down one of the best around and with the success of this year the festival will be coming back next year.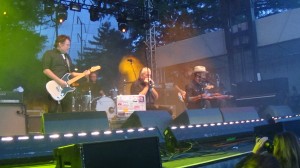 In case you missed the inaugural BottleRock Napa Valley, which wrapped up Sunday (May 12) with an incredible line-up of live music including; Mavis Staples, Train, Wallflowers, Michael Franti and Spearhead, Rodrigo & Gabriela, CAKE, Zac Brown Band and more!
Culinary bites from the valley's best restaurants, sips from dozens of area vineyards and a massive music weekend had festival crowds cheering for a 2014 return.  Under perfect weather and prior to WillPower stage performer Zac Brown Band, BottleRock Co-Founder Gabe Meyers thrilled the crowds as he announced dates for BottleRock's return May 9-11, 2014.
Festival Co-Founder Gabe Meyers said this about the festival:
"We did the impossible in less than six months and the people responded."
 "BottleRock Napa Valley was a dream my business partner Bob Vogt and I had. To sit here Mother's Day weekend and celebrate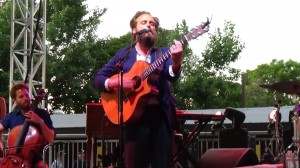 the birth of a new northern California festival feels incredible. A big thank you goes out to all the artists, believers, fans and especially our crew that joined us for this first year event and made it a spectacular start.  Did I mention we're tired?"
2013 Festival Platinum VIPs, VIPs, weekend and single day ticket holders who purchased through the festival ticketing partner will be emailed a promotional code for a "Thank You" offer good on 3-day weekend passes only. 3-Day tickets are on sale now.
Situated on three stages with more than 80 artists spread over 26 acres on the grounds at the Napa Valley Expo in the City of Napa, BottleRock Napa Valley 2013 attendees enjoyed the wonderful hospitality of the region.
And if you didn't notice the Festival will be 3 days instead of 5!
Stay connected and find out who will be headlining 2014…THEY CAME, THEY SAW, THEY BOTTLEROCKED!!!
More information can be found at www.bottlerocknapavalley.com
Facebook at www.facebook.com/Bottle Rock Napa Valley
Twitter at www.twitter.com/BottleRockNapa, #bottlerocknapavalley.
CelebNMusic247 brings you latest news on celebrity daily…Stay Connected to CelebNMusic247.com: Follow us on Twitter – Like us onFacebook and Friend us on YouTube 
Related articles