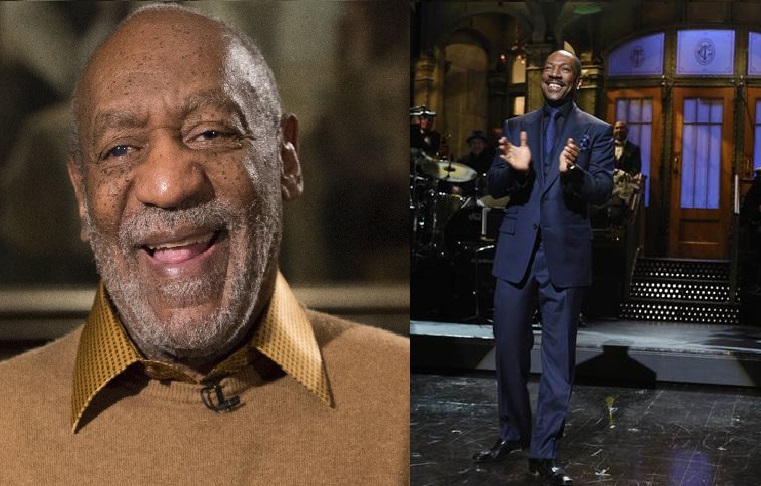 Bill Cosby Applauds Eddie Murphy!!!
When it comes to the SNL 40 broadcast on Sunday night comedian Eddie Murphy refused to mock the great Cosby and now Bill Cosby Applauds Eddie Murphy's decision.
Unlike most of the SNL cast, Eddie Murphy has always been the one who stood out in the crowd. He NEVER did the same character twice and when he didn't feel something was right he stood his ground. Back in the day he feel out with David Spade after he made a spitful dig at Murphy while his career was in transition.
Now the the shoe is on the other foot, Murphy has chose the high road and on Sunday night he refused to mock Bill Cosby while his career has been tossed in the mud. Now Bill Cosby is speaking out. He is grateful that Eddie Murphy rejected an offer to impersonate the embattled comedian during the 40th anniversary "Saturday Night Live" special.
[rpi]
Cosby said through a spokesperson:
"I am very appreciative of Eddie and I applaud his actions."

Murphy apparently turned down a suggestion that he do an impression of Cosby during the "Celebrity Jeopardy" skit, according to former "SNL" cast member Norm Macdonald.
That is what makes legends in the industry.
However, Cosby, who was ultimately impersonated by current "SNL" cast member Kenan Thompson, has been accused of sexual assault by more than 20 women. Cosby has never been charged and, through lawyers, he has denied the allegations.
To see the skit Click HERE…