All it took was 24 hours of tweets, Instagram comments, and an endless stream of bee emojis for Beyonce's publicist to SHUT DOWN the Beyhive and make them stop bullying the woman speaking to Jay-Z
Yesterday, the Beyhive was in full effect as Jay Z was spotted speaking to woman courtside at the NBA finals on Wednesday. What got Bey's fans going was her eye-rolling distaste for the woman speaking to her her husband. Basically, she was looking mad jealous and was trying to play it off, but everyone saw it. Read on…
Jay-Z and Beyoncé are courtside for Game 3 ? pic.twitter.com/6mmJuN8Odn

— ESPN (@espn) June 6, 2019
CelebNMusic247.com reports that the woman speaking to Jay Z was the Nicole Curran is the wife of Joe Lacob, who owns a majority share in the Golden State Warriors.
It was Game 3 of the NBA Finals, and Jay Z and Beyonce were in Oakland to watch the game. Following the word exchange between Nicole and Jay Z was a hate campaign against Nicole as fans discovered her Instagram page and began spamming it with bee emojis.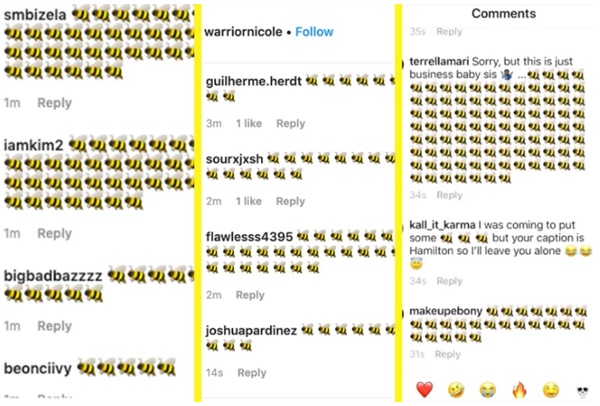 Reporter Ramona says that she spoke to Nicole in a series of Tweets that makes the Beyhive look utterly unaware of what was really going on. In fact, Nicole explained she was confused by the situation as she'd only asked Beyoncé and Jay if they wanted drinks.
Just spoke to Nicole Curran, the wife of Warrior's owner Joe Lacob, about the "incident " with Beyoncé last night. She was in tears. Said she had been getting death threats on social media all night this morning she disabled her IG account just to make it stop.

Curran said she had no idea anything was even amiss until she got home and started seeing texts from friends and checked her social media. She's invited Jay Z and Beyoncé to the game 3-4 times before. Last night she says she asked if they wanted drinks. Beyoncé asked for water.
After apparently explaining that she'd learned over Beyoncé to ask Jay if he wanted lime, Nicole expressed her dismay at the online bullying:
Curran says Jay Z asked for a vodka soda. She asked if he wanted lime with that. But it was loud in Oracle and she couldn't hear, so she leaned over. That's where the photos of Beyoncé looking askance at her come from.

Curran says she then went to go get them those drinks. "There was no hostility. I was trying to be a good hostess," she said. "I've never experienced cyberbullying like this. I can't believe our players go through this. That kids go through this."
Following the truth being revealed, Beyonce's publicist, Yvette Noel-Schure, seemingly referred to the drama on Instagram, telling the BeyHive to stop "spewing hate".
And this is how she did it to calm all Bey's nasty Bees down. She posted a throwback picture to mark the anniversary of Beyoncé and Jay's On The Run II Tour, Yvette said:
I know your love runs deep but that love has to be given to every human. It will bring no joy to the person you love so much if you spew hate in her name.