Wait, hold up?  Did Bette Midler Apologize To Ariana Grande? Well maybe NOT because the Divine Miss M who fired shots at the newbie pop singer has done it again.
Bette Milder, who is just as sassy as ever ignited a feud that spans 4 decades apart. Yes the  It's the Girl's singer has once again added more fuel to the fire after another back-handed remark surfaced on her Twitter.
Bette, who used to sing in bath houses and have one of the raunchiest shows to see when she first started out has weighed in on the young Ariana Grande and her over sexed image, which she feels is too much.
[rpi]
Ariana, who looks like she had some help from her mom, responded to Midler yesterday, but just when you think the two singers were coming to a Thanksgiving truce, Bette did it again.
But first let us recap the tea:
On Monday, the 68-year-old Divine Miss M sat down with the Telegraph, slamming the 21-year-old pop star for being too sexual, saying:
"You don't have to make a whore out of yourself to get ahead."
Grande followed with:
In which she stated Midler had always been a feminist "who stood for women being able to do whatever the F they wanted without judgment! Not sure where that Bette went but I want that sexy mermaid back," Grande stated alongside a pic she posted of Midler as a mermaid.
On Tuesday, Grande e-hugged Midler, posting two Tweets.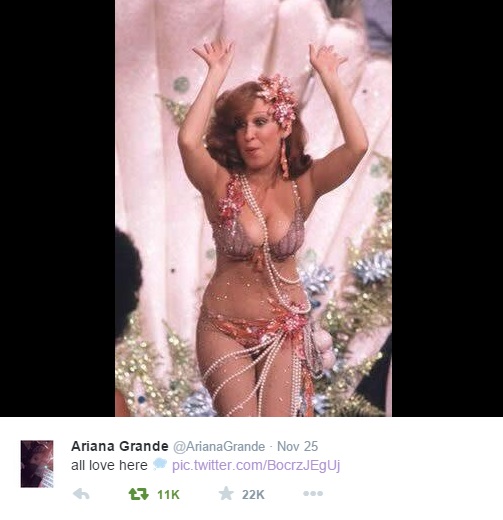 Related articles