Back in the day (the mid-2000's), B2K was all everyone could talk about. They were the boy band fans fantasized about, all the girls wanted them, all the boys wanted to be them.
Then, one day, the offspring if Immature, B2K suddenly split and fans were lost, devastated and didn't understand why? Read on for the tea spill…
CelebNMusic247.com reports after the sudden breakup of B2K the four members were divided. Omarion started his solo career and the others were left without.
Fans were struggling to figure out why the boy band split, and then it came out, J-Boog, Raz B and Lil Fizz revealed details about the breakup.
The three members revealed that their former manager Chris Stokes withheld money from them and that he was overbearing and controlling. From there the bomb was dropped when Raz B accused Stokes, his cousin, of molestation. A dark cloud began to linger over the name B2K. fans were unsure to believe Raz B or Chris Stokes, but after meeting and speaking with De'Mario Monte Thornton, best known as Raz B, 33, you could see in his eyes he was being truthful.
Despite Raz B's accusations, Chris Stoke has continued to maintain his innocence and many began to believe that Raz B was just doing this for a money grab. He was immediately dismissed.
Now, almost 10 years later, and with the news of B2K reuniting and fans have been firing questions at Stokes who continues to debunk and maintain his innocence because he has kids.
One fan had this to say to Chris:
I believe that you did this to those poor kids. I guess U might of changed to your life. But that damage is there. Fizz said the same thing regarding this evil thing U did or had them do. I know of Jehovah witnesses that are evil and hide behind that. You need to pay. PERIOD

Another fan weighed in stating that having kids doesn't make ones past a clean slate:
Don't try to use having kids or people that carry on pedophiliac behaviors ALL go to jail if that was anywhere close to the truth my gosh the population will be smaller.
The backlash continued to plague Chris Stokes Twitter page. Many took Raz B's side defending him: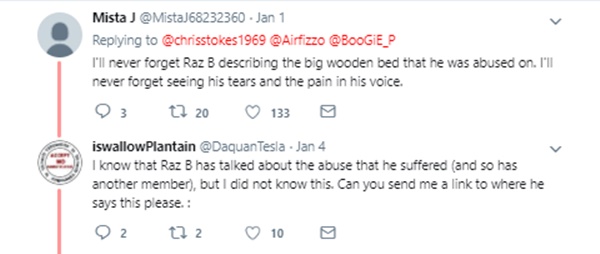 Another straight up called him a pedophile:
Another B2K fan weighed in on Stokes saying: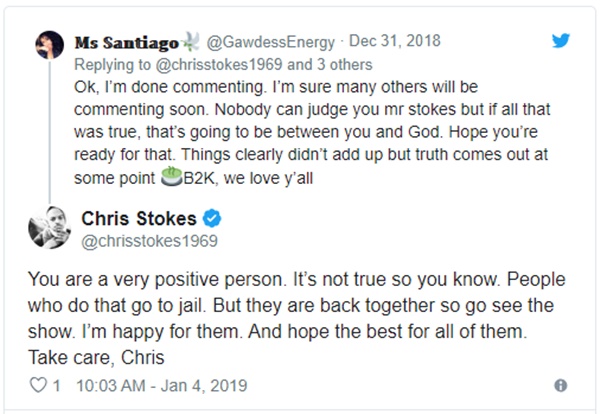 Stokes seems to be trying to maintain a positive demeanor amidst the group's reunion. Here's what he had to say about all the rumors.
He Tweeted: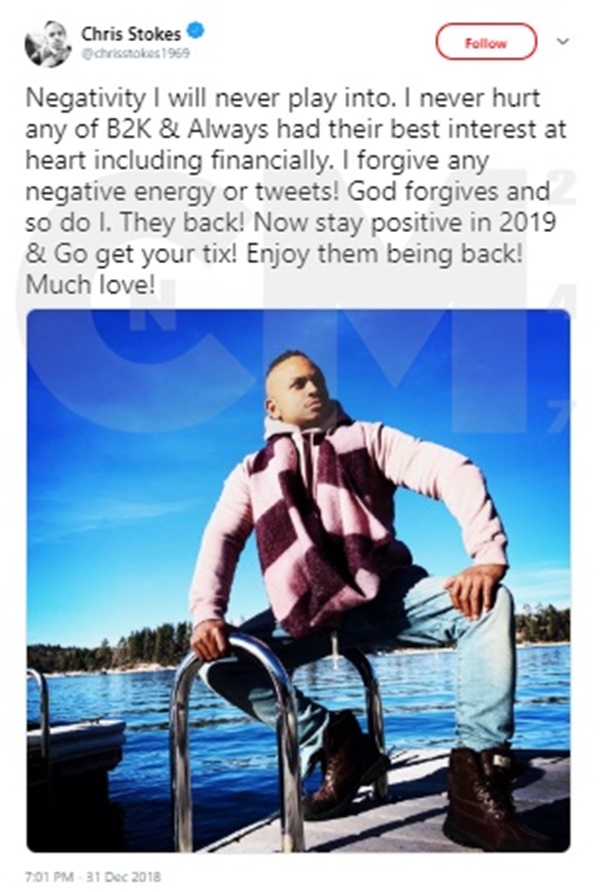 Nothing was ever proved. And to date, B2K are reuniting on tour in 2019.