It didn't matter that two Sweden immigrants continued to harass ASAP Rocky and his crew and follow them for blocks on end while Rocky was touring the streets of Stockholm.
Nope, not at all, the two men who continually tried to bait ASAP Rocky into fighting them got their wish and now ASAP Rocky guilty of assault. Read on…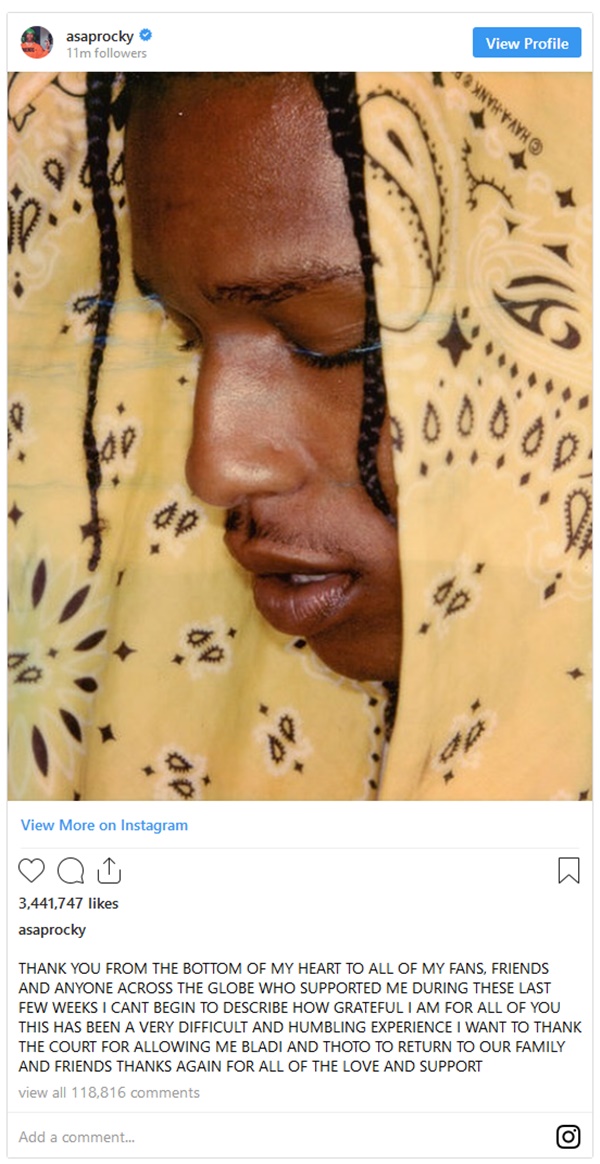 CelebNMusic247.com reports that rapper ASAP Rocky Guilty of Assault in Sweden for self-defense, but judges in Stockholm found the rapper ASAP Rocky guilty because the saw it another way.
Basically, the four judges in Sweden saw ASAP Rocky and his crew as three black men attacking their citizens, who are immigrants of their country and have been accused of harassing women on the streets of Stockholm. Real abiding citizens.
Anyways, Swedish prosecutors had sought a six-month prison sentence for Rocky for his part in a street brawl in Stockholm on June 30 that left a 19-year-old man bleeding and needing medical treatment.
But a panel of four judges, led by Senior Judge Per Lennerbrant, found that the assault was not of such a "serious nature that a prison sentence must be chosen."
Rocky has been sentenced to two years in a Sweden Prison, but he will not serve any more jail time, having already spent over a month in a Swedish detention center.
If you recall, Rocky, 30, whose real name is Rakim Mayers, said this month during the trial that he had acted in self-defense when he threw the man, Mustafa Jafari, to the ground. Then two members of his entourage punched and kicked him.
It's called a good beatdown when someone like Mustafa pulled the stunt he did, continually harassing the rap star.
Is this justice? No, we don't see it as such. The man who should be found guilty in Sweden immigrant Mustafa Jafari, but for some reason, it appears he might be protected by the country.
Bottom line, hip hop should ban Sweden from all tours until the end of the world.
ASAP Rocky's Sentence:
Here is what we've learned via the NY Times:
Rocky's co-defendants, Bladimir Emilio Corniel and David Tyrone Rispers, received the same verdict and sentence. All three also were ordered to pay Mr. Jafari damages. In the trial, Mr. Jafari's lawyer asked for about $16,000 in compensation, but the court awarded 12,500 Swedish kronor, about $1,300, for pain, insult and injuries.

Though the sentence represented a victory of sorts for Rocky, Slobodan Jovicic, his lawyer, said that he was disappointed by the conviction.

In case you have been away all summer watch the video and see what we are talking about.