Ariana Grande is finally speaking about the death of Mac Miller and her breakup with Pete Davidson.
The "Thank You, Next" singer opened up about the most tumultuous few years of her life speaking on the death of ex-boyfriend Mac Miller, the break-up from her ex-fiancé Pete Davidson. Continue on to see what Ariana Grande revealed…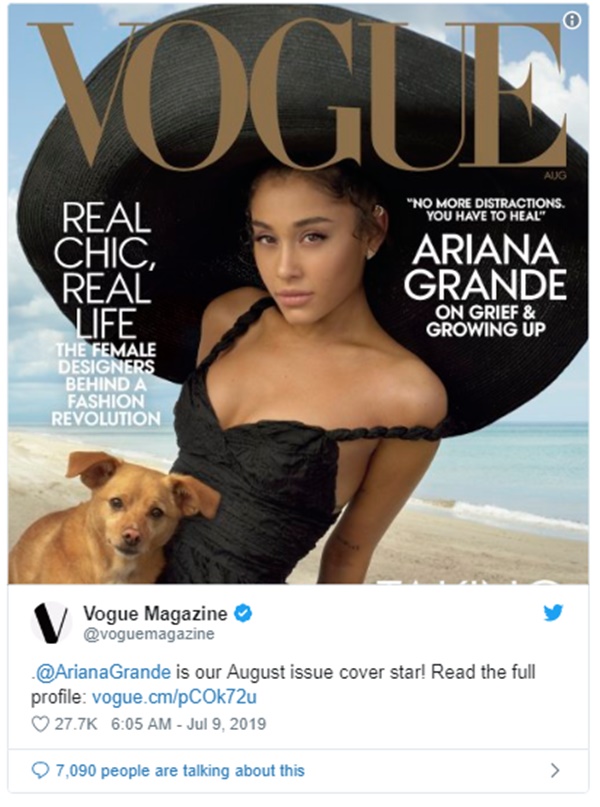 CelebNMusic247.com reports that pop singer Ariana Grande opened up in a new interview with Vogue magazine about losing two men in her life.
Ariana Grande recalled how performing at Coachella this year made her think of Miller.
She said:
The first time I went [to Coachella] was to see Malcolm perform, and it was such an incredible experience. I went the second year as well, and I associate…heavily…it was just kind of a mindfuck, processing how much has happened in such a brief period.
Ariana went on to reveal why she responded to a person on social media who accused her of being one of the causes of Miller's troubles.
Grande said:
People don't see any of the real stuff that happens, so they are loud about what they think happened.  They didn't see the years of work and fighting and trying, or the love and exhaustion.
She revealed the tweet about Mac Miller came from "a place of complete defeat."
Grande spoke on her worries since Miller died last year from a mixture of fentanyl, cocaine, and Ethanol found in his system.
She said:
You have no idea how many times I warned him that that would happen and fought that fight, for how many years of our friendship, of our relationship.  You have no idea so you're not allowed to pull that card, because you don't fucking know. That's where that came from.
The superstar spoke on her ballad "Ghostin" which sampled Miller's song, "2009." It was a time when she was grieving for Miller while still engaged to Davidson.
View this post on Instagram
Ariana switched to Davidson, a comedian and current cast member on SNL, saying he was "an amazing distraction."
Basically, Pete Davidson was a rebound and just someone she needed to help her get through a tough time.
She said:
It was frivolous and fun and insane and highly unrealistic, and I loved him, and I didn't know him.
Read Grande's FULL interview in Vogue…