Ariana Grande sends a direct message to her recent ex-fiance Pete Davidson with her very own "burn book."
In her new video "Thank You, Next" Ariana Grande lets the world knows that she's sorry for having "dipped" at the end of their lightning-fast relationship! Read on…
The modern-day pop star Ariana Grande uses Mean Girls as her inspiration for her latest video and lyrical apology to SNL star Pete Davidson.
CelebNMusic247.com has to admit that Ari is doing the most in a creative way by taking her personal breakups and losing Mac Miller aka Malcolm James McCormick lyrically.
In the opening of "Thank You, Next" she says:
Thought I'd end up with Sean
But he wasn't a match
Wrote some songs about Ricky
Now I listen and laugh
Even almost got married
And for Pete, I'm so thankful
Wish I could say, "Thank you" to Malcolm
'Cause he was an angel
What we are noticing is that there are some pretty BIG moments you probably didn't even realize were there!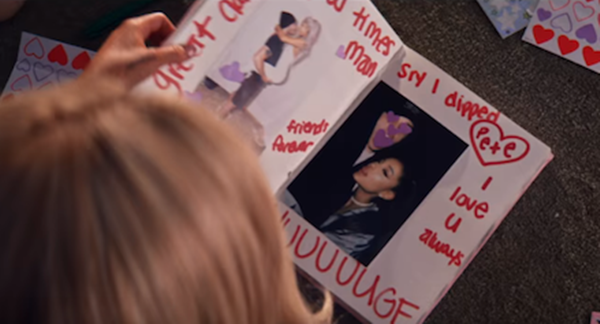 She talks about all the guys she's dated, and how she wished she told Mac Miller, who died this year from suicide that she was sorry.
At the 1:05 mark of the video, Ari uses her own "burn book" to apologize directly to Pete Davidson for having "dipped" at the end of their lightning-fast relationship!
Ari is not only ending things on very good terms with Pete, but also referencing his, um, impressive size as well. We can't count all the times that Ariana was caught speaking about how big Pete Davidson white snake is.
She says:
Ahhhh!!!! HUUUUUGE!!!!!
if you fast forward a bit to the 3:25 mark, and watch her reference Pete's big d**k AGAIN in an interlude skit with Jennifer Coolidge, too (starting right at that scene, below):
Ha!! LOVES it!
Was that the allure? Was it just his manhood?
Let us know if you caught anything else in the video above.