This week rapper Gucci Mane newfound zen way of thinking was derailed when one of his reps reached out to Angela Yee so he could apologize to her behind the scenes.
The Breakfast Club co-host wanted Gucci Mane to apologize on-air as she does trust him and feels he would twist things around. Gucci who admitted back in the day he was on lean and his memory of events back then are NOT too clear. However, he is upset that comments about his wife, Keyshia Ka'oir would dig up this week regarding her and a fellow rapper smashing. This all has to do with the long-rumored tension between Gucci Mane and the popular radio show.
What CelebNMusic247.com are hearing is that it's Yo Gotti's revealing interview with the "Breakfast Club" radio show is the alleged reason behind Gucci's tension with host, Angela Yee. Read on for more details on Angela Yee Gucci Mane feud…
CelebNMusic247.com has the details leading up to why, when and how Yo Gotti and Gucci Mane's wife, Keyshia Ka'oir hooked up. Since the tea spill in 2015, Angela Yee Gucci Mane have been feuding but Gotti claims he didn't know Gucci was "all in love like that."
In the 2016 clip, Charlamage questioned Yo Gotti about rumors of his involvement with Keyshia Ka'oir.
Yo Gotti weighed in and admitted that he and Keyshia did indeed hook up while Gucci Mane was locked up behind bars. He also said that he didn't know there was more going on with Gucci and Keyshia at that time.
Gotti told the Breakfast Club:
I didn't know that! Come on, man. You know how the game go. Keepin' it a G, shawty the one told me she used to mess with homie. Like, I didn't know that…I think shawty cool- like, let's clear that up. I don't think nothing less of shawty. I got the utmost respect for shawty.
During that interview Angela Yee said nothing wrong. She wasn't the one asking the question about Yo Gotti and Keyshia Ka'oir.
Gucci sounded off on Friday alleging that Yee was trying to get some D. Apparently he was livid that Charlamagne Tha God and Angela had a Breakfast Club Court session and used the audio from the Yo Gotti interview of 2015.
Here is what he Tweeted: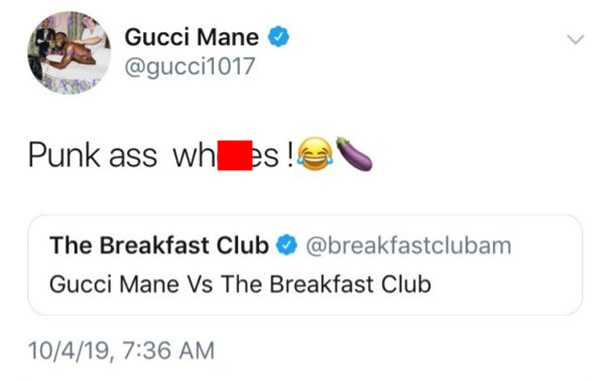 Though Gucci Mane is blaming her and also quesitioning was that the reason why he was banned from The Breakfast Club?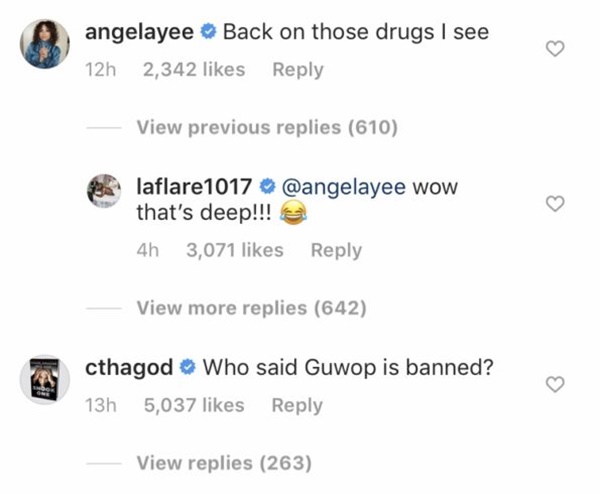 Fast Foward to now, Gucci took to social media stating that Angela Yee tried to get some D from him.
He captioned the video saying:
Wow! So you mean to tell me The breakfast club BANNED me 4 this? #TruthHurts #getoffmydick ??
Well Angela Yee and Charlamange held The Breakfast Club Court to clear up the accusations and claims from sources that were posted on TheJasmineBrand.
Take a listen beceause all is explained below: