Last Updated: August 24, 2016
Why Advertising with CelebNMusic247?
The CelebNMusic247 Entertainment Brand has eight niche websites for your ADVERTISING needs; CelebNMusic247, CelebNMovies247, CelebNReality247, CelebrityNSports247, CelebNHealth247, CelebNFashion247, CelebNLatin247 and CelebNTech247.
CelebNMusic247.com Network averages 7 Million Impressions and 1.5 million unique readers per month:
ADVERTISING OPPORTUNITIES:
DISPLAY OPPORTUNITIES

                                                 

MOBILE OPPORTUNITIES
728×90, 300×250, 160×600, 300×600                                                 Anchor Banners
Custom Executions                                                                             Full-Page Ads w/Video
Site roadblocks and skins                                                                 Sponsored content and photo galleries
Custom Skins (Parallax, Toggling, Sticker, Video)                     iPad 300×250
Rich Media Marquee Units                                                               iPad Full Page Units
Masthead integrations
Photo Gallery sponsorships
iPad skins
Animated & Video Overlays
Desktop Interstitials
Social Media Integrations
Desktop In-Stream Video
For an Artist One Sheet, please CLICK HERE:
What To Do A Giveaway?
Please contact GRoads@CelebNMusic247.com for assistance and information.
ALL information, inquiries + Media Kit 2016 are for serious inquires only  
For more information in regards to advertising with CelebNMusic247 Network please contact: advertise@celebnmusic247.com
Site Samples:
SIDEBAR VIDEO                                                      VIDEO OVERLAY 

SITE TAKEOVER  1                                                              
SITE TAKEOVER  2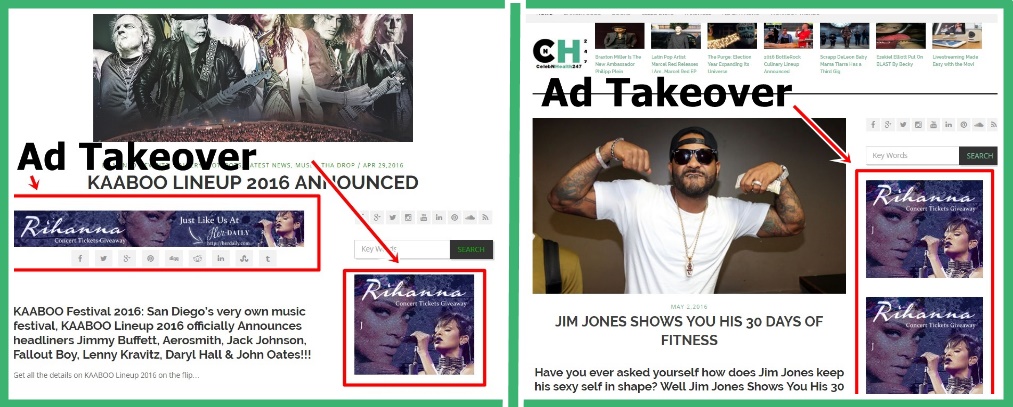 You will be contacted within (24 hours). Please make sure to give ample time to get your ad request fulfilled.
CelebNMusic247 ™ in care of GBC Entertainment Media Inc 2012 – 2016