50 Cent already "working" to secure the rights to Tekashi 6ix9ine movie!
The Power creator is already hard at work to secure another bag and this time he's locking down the rights to hip hop Snitch, Tekashi 6ix9ine. Read on for more about the 50 Cent 6ix9ine Movie…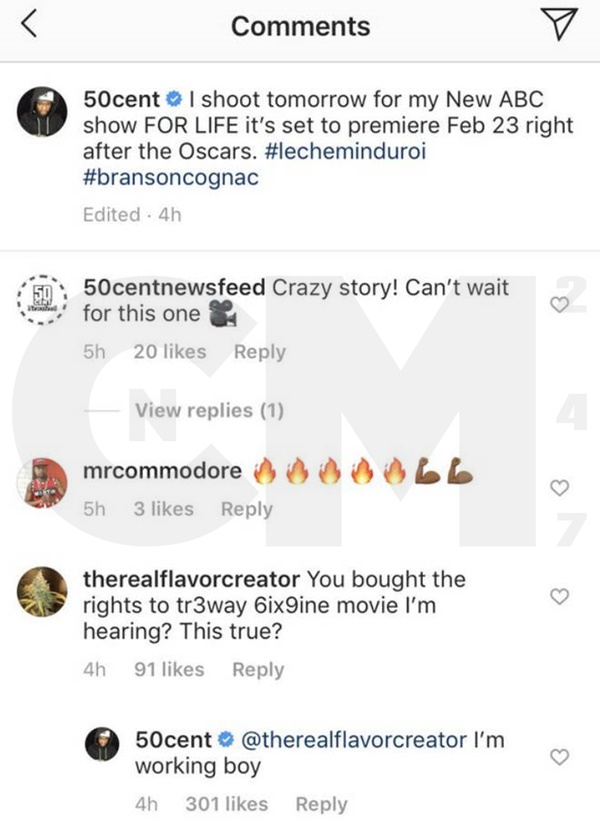 CelebNMusic247.com has learned that The Power executive producer has confirmed that, yes, he is working on an upcoming project involving the story of Tekashi 6ix9ine and his Nine Trey Blood gang.
Just when you thought 50 Cent had washed his hands of his ex-son 6ix9ine he is working on securing a new bag. The only thing is that he will be making the bag off of someone elses life.
Wait, that is what everyone does already. Anyways, when a fan asked 50 Cent while he was promoting his new ABC show 'For Life.':
You bought the rights to tr3way 6ix9ine movie I'm hearing? This true?
The G-Unit head honcho didn't deny the rumor of securing rights for Tekashi 6ix9ine Movie.
50 Cent replied:
I'm working boy. — hinting that it could potentially be the Tekashi 6ix9ine film.
Now, let's be honest, Fif didn't say yes and he didn't deny anything. – he left the rumor wide open for assumptions.
Word is, ScHoolboy Q wants in on the 50 Cent  – Tekashi 6ix9ine movie:
Q took to social media to let his fans know he's ready to get his acting skills together for a role in 50 Cent's alleged upcoming project.
Schoolboy Q took to Twitter to joke about playing a snitch in 50 Cent's biopic about Tekashi 6ix9ine and the Nine Trey Bloods.
Q wrote with a laughing emoji:
The 6 9 movie gone be crazy… I Hope I get a role in it. I just wanna play one of tHe snitcHes…