Last year, 50 Cent and Busta Rhymes got in a bit of a spat. Well, a year has passed and 50 is back clowing Busta Bust once again, this time about the size of his arms at the gym.
If you remember, Busta did not take 50's odd compliment lightly, and we are back full circle with it. Read on…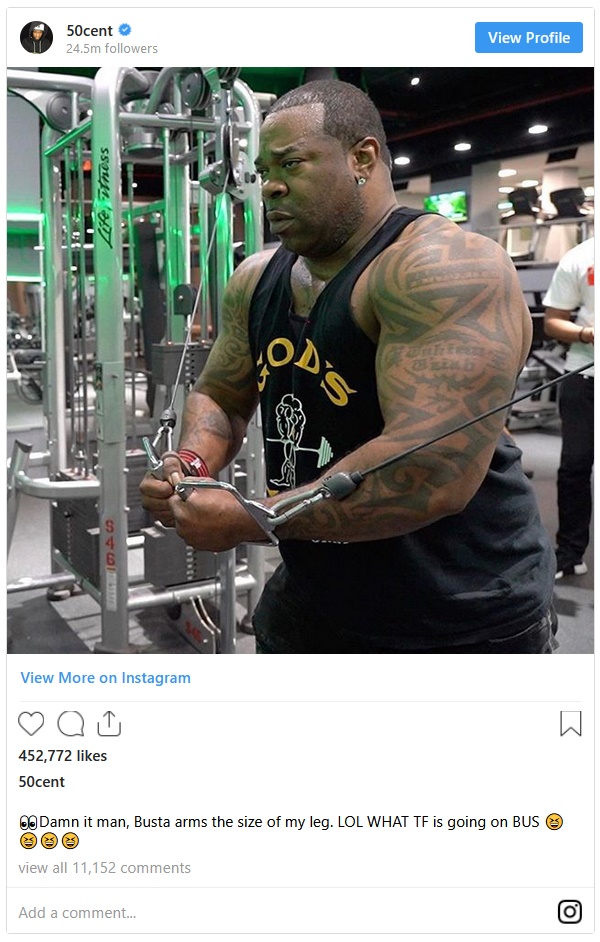 CelebNMusic247.com recalls that last year Busta Rhymes was a bit heated over 50 Cent poking fun at his size so the two hip hop veterans got into a childish game of back-and-forth jabs.
Fast forward to now, a year later, 50 Cent is back making comments about Busta Rhymes, but this time it was a compliment with a underlying joke added.
Come'on it's Fiddy, so what do you expect.
50 Cent is one guy that keeps his body scuplted. He is rock hard and muscled with all the right body parts. There is now fat on this man, no sir!
Which leads us to Busta Rhymes who at one time in his career he was a tall and slender snack. These days Busta Bust is more of a thick and juicy steak for all those ladies who likes their men to have a little grizzle with the muscle.
If you're trying to keep those carbs down and want pure protein then 50 Cent is exactly what you want.
But in the tradition of fun and trolling on social media Fiddy just had to go there again with Busta saying:
Damn it man, Busta arms the size of my leg. LOL WHAT TF is going on BUS!
While this can be interpreted as amazement at his strength, the "LOL" and laughing emojis might stir this semi-friendly feud in the wrong direction. Busta probably won't be too happy when he finds himself as the butt of 50's joke once again.
These days Busta is giving us all HULK Body.
What makes things more comical is 50 Cent's video askig for help because he's afraid that Busta Rhymes might want to fight after his joke this weekend.
Check it: