Wrapping up the hip-hop news this week, CelebNMusic247.com has the latest reports from Ty Dolla Sign Out on Bail.
Then Casanova WARNS 50 Cent for body shaming Busta Rhymes.
Read on to get the latest hip-hop news on Ty Dolla Sign Out on Bail and Casanova WARNING 50 Cent for body shaming Busta Rhymes
Following Thursday's report that Tyrone William Griffin Jr., best known as Ty Dolla Sign was arrested, the 33-year-old rapper is out of jail on a 6k bond.
There were 5 other people in the car with him & none of them went to jail but Ty. He goes to court here in 2weeks. One of the five people is known EDM artist Skrillex.
TMZ has additional info regarding the arrest:
Atlanta PD just released its body cam footage from the rapper's arrest earlier this week, and it shows an officer on foot patrol telling another officer he smelled weed, but nobody had gotten out of the limo. In the video, you can see Dolla tell cops he had been smoking weed earlier. The whole group was thoroughly searched.

Skrillex had nothing on him. Moments later, you hear a cop searching the limo saying, "cuff him" and that's when Dolla's placed under arrest. More backstory here…
Casanova WARNS 50 Cent to STOP SHADING Busta Rhymes:
Over the weekend 50 Cent made Busta Rhymes his latest victim, but the G-Unit lieutenant decided to body shame the veteran rap star.
Like us, some of ya might be asking why you gotta go after Busta Rhymes 50 Cent?
Back in 2006, Busta Rhymes' producer got into a heated feud with two members of the G-Unit (Tony Yayo + Lloyd Banks). NYPD investigated the matter to see if it was that beef that led to a fatal shoot out a star-studded video shoot in Brooklyn. Security guard Israel Ramirez, 29, wound up dead when bullets flew outside, according to FOX News.
Since then, 50 Cent and Busta Rhymes have been on the outs and no the 50 felt like roasting the large-sized veteran rapper.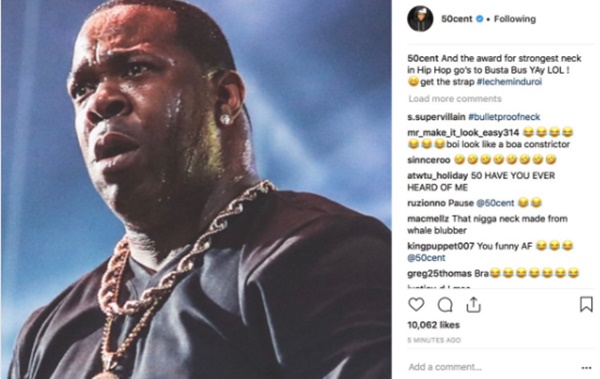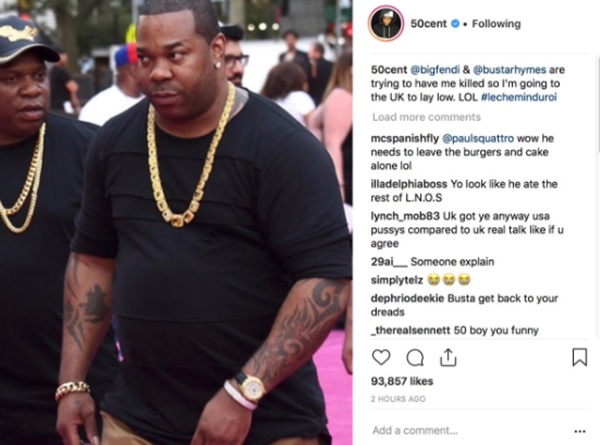 Busta Rhymes has become thick since he did those damn steroids and pumped up in the gym. Obviously, he didn't keep it up and it all turned to fat. That is the side effect of NOT working out after using steroids.
Once Cassanova caught wind of 50 roasting the Flipmode Squad leader Busta Rhymes so he took to social media to WARN his homie.