50 Cent decides to mock ex-con Puk Kireka, 31, who joined the Mongrel Mob – one of New Zealand's most feared biker gangs – in 2008.
What probably grabbed 50 Cent's attention was that Mongrel Mob member Puk Kireka complaining "it will be hard to get a job with my tatts." Read on to see what Fiddy said about his notorious facial tattoo…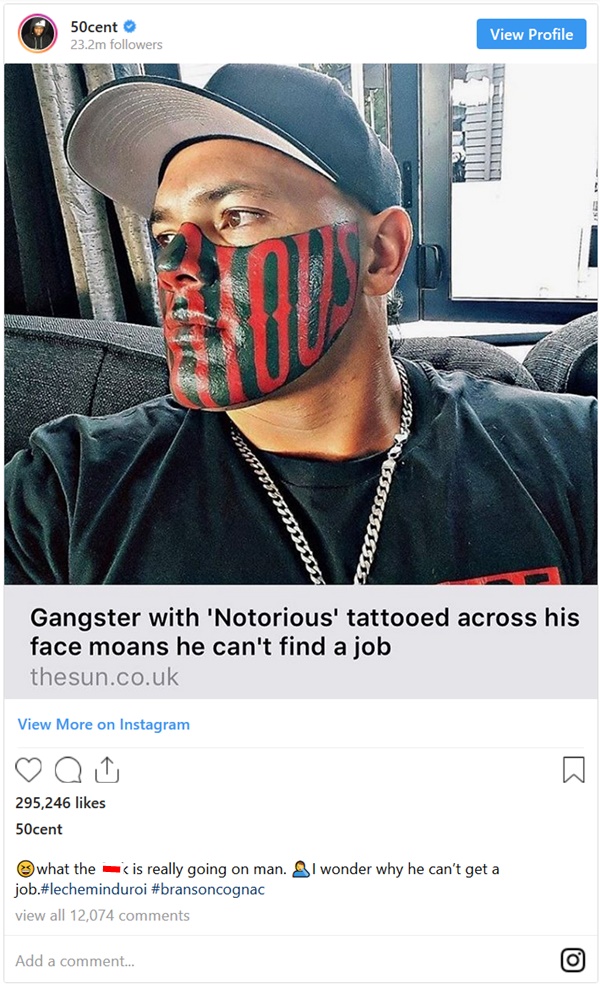 CelebNMusic247.com might ask "How Far is Tattoo Far?" This is surely too far because his face will forever look like he has a mask on it.
Puk Kireka spoke to NZME about his huge black and red facial tattoo, which spells "notorious", last week, expressing his concerns about finding a job.
I know it will be hard to get a job with my tatts.
The father-of-three admits in the interview that he "will always be a mobster" but wants "to bring some of the others on board this better lifestyle."
Kireka stressed:
A lot of them are still drinking and smoking. While they aren't getting into much trouble they are still ruining their lives with their lifestyle.
It is great that he wants to better his life, but the tattoo was extreme which caught the attention of hip hop veteran 50 Cent who has a lot of his ink removed over the years. The one thing Fiddy NEVER did was ink his face.
If you want to be taken seriously in music entertainment face tattoo are a big no-no.
After seeing the article in The Sun, 50 Cent took to social media to call out a Kiwi Mongrel Mob member's facial tattoo on Instagram.
50 posted a screenshot of The Sun's article on Kireka to his 23.2 million Instagram followers and sarcastically expressed surprise at the Kiwi's situation.
The G-Unit rapper wrote, adding a facepalm emoji:
What the f–k is really going on man. I wonder why he can't get a job.
Thoughts?