For a second we thought Power executive producer Randall Emmett was another Teairra Mari.
Luckily, Power executive producer Randall Emmett put on his smart pants on Monday and paid back 50 Cent after a day of trolling on social media. Read on…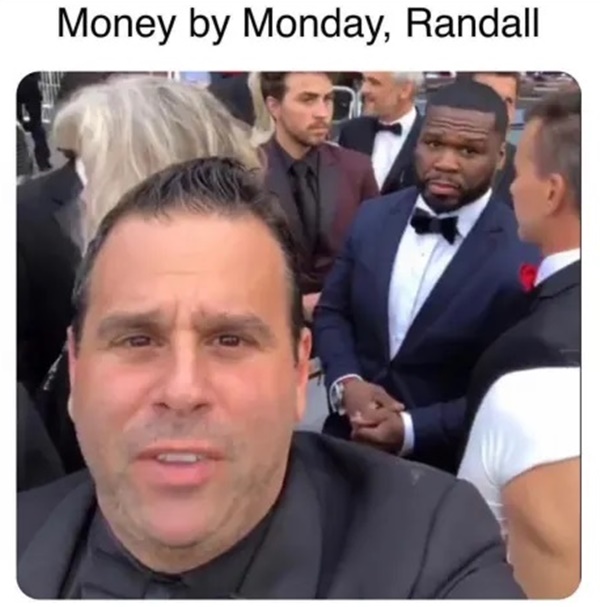 CelebNMusic247.com reports that 50 Cent was ruthless when it came to Power executive producer Randall Emmett paying him back his money.
The main reason, 50 Cent doesn't play about it's his money. And Emmett has found himself on the receiving end of one of the biggest bullies in entertainment history.
For close to three days, 50's Instagram has been a continuous troll dedicated to his business partner Randall Emmett.
Fiddy BLASTED him every possible way exposing a series of text messages in which the producer misspelled "Fifty" when trying to apologize to him.
The "I Get Money" rapper decided to turn the "I'm sorry FOFTY" phrase into an opportunity to recoup the money he's owed.
Get this, it has been reported that 50's shrewd decision proved fruitful as he made $300,000 off the "I'm sorry FOFTY" shirts in just one day.
How The 5o Cent Lala Kent Feud Started:
It all started on Friday, when 5o Cent posted a video of Emmett's fiancée Lala Kent on her reality show Vanderplump Rules, explaining how she and Emmett met.
50 wrote under the clip:
10 seconds left in the 4 quarter hoe's are Winning. Do you want A range rover, yes, bitch yassss! Then just run out and suck a d*ck.
What set Curtis Jackson off? Well it was hearing Emmett is planning an extravagant wedding, so 50 wanted what he's owed. He wanted Emmett to make good on the $1 million dollar loan he gave him six years ago.
Here is just a taste of from the feud that took place between 50 and Emmett's fiancée Lala Kent:
Fifty FIRED the first shot at Lala writing:
ME TOO ROLE PLAY: Are you an actress … come to my hotel and act like you really want the role, then suck a d-ck … No good Randall No good!
LaLa Kent responded:
Wow Fifty. I'm disgusted! We've sat up at dinners solo with you, you showing mad love, while begging Rand to put one of your new talentless b*tches in a film, and this is how you come for me? On the gram?
50 Showed no mercy and gave Lala some real Kannon streetwise ways:
Look at this sh-t … little b-tch think she in a movie. I don't beg for nothing hoe.
Kent quickly FIRED back calling 50 a she:
She swears she's a thug from south side Jamaica queens & she's up in here watching Bravo.
Lala quickly tried to make it a #MeToo Movement issue but FAILED.
The Vanderpump Rules star said:
Fifty took a clip of me talking about what I do behind closed doors with my fiance and used it to diminish the validity of the Me Too movement. That I will not stand for. If you have been affected by a man like Fifty, do not be quiet! We're not going to be silenced. I have your back, and we need to let these f–kers know that they are not safe.
50 stuck with the #MeToo theme, commenting:
Hey, how is the Range Rover? There's no difference between Harvey Weinstein and Randel Emmett! This is reality, not reality TV. Bravo b*tch @bravo.
Take a look at just a few of the posts: