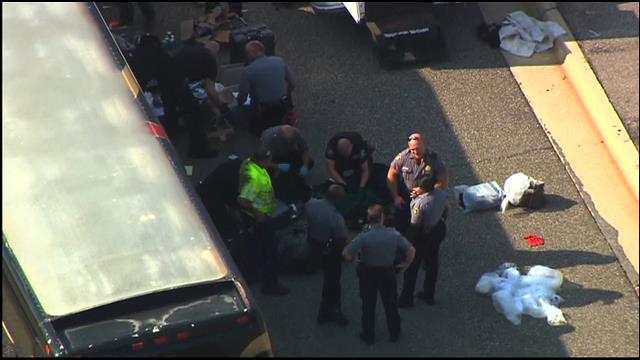 (CelebNMusic247-News) 2 Chainz Bus Towed 7 Arrested For Drugs
Rapper 2 Chainz was among 11 people arrested Thursday after his tour bus was pulled over in Oklahoma City for a traffic violation that led to a showdown with police.
Earlier on Wednesday night 2 Chainz  performed along with Lil Wayne and T.I. at a concert at Chesapeake Energy Arena.
Just after midnight Thursday (Aug 22), police pulled over 2 Chainz' tour bus at Interstate 40 and Meridian for a broken taillight.
Here's the drop:
The officer suspected there were illegal drugs on the bus, but the driver locked the doors and refused to let police inside. Everyone on board also refused to leave the bus.

Police had the tour bus towed, with the people still on board, to the police trainingfacility at 850 N. Portland until officers obtained a warrant to search the bus.

Several hours later, the people on board the bus who initially refused to open the doors were taken off the vehicle and arrested. All 11 were booked into the Oklahoma County jail for a state misdemeanor charge of obstruction.

Officers searched the vehicle. Police have not said what they found during the search. Check the video here…
Maybe 2 Chainz should clean his act up a bit?
Check the photos:
Related articles