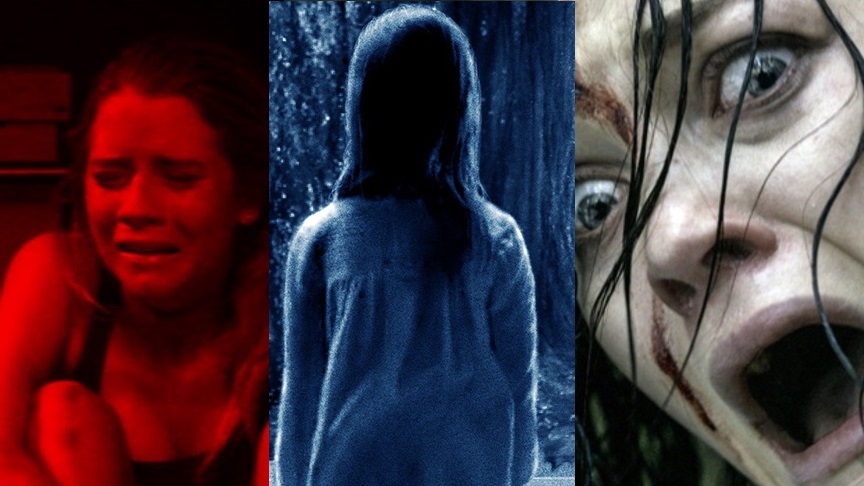 15 Horror Movies To Scare You For Halloween!!!
It's that time of the year when everyone wants to get scared, dressed up, or head out and trick or treat so we have 15 Horror Movies To Scare You For Halloween.
CelebNMusic247.com are big horror movie fans so we put together a list of movies that are the perfect combinations of horror movies to have you on the edge of your seat this Halloween. In past years we have listed our Top 13 Scariest MUST See Horror Films of 2014.  We told you about the Top 10 BEST Horror Film Franchises and now we are back again with 15 Horror Movies To Scare You For Halloween 2015.
There are tons of horror movies to pick from, but we have some cult classics, mixed in with some new soon to be classics for our 2015 15 Horror Movies To Scare You For Halloween list.
What's Your favorite Scary Movie?
Our list counts from 10 to 1, so lets see if you agree with CelebNMusic247.com's 15 Horror Movies To Scare You For Halloween:
15) Cabin In the Woods:
This movie is great fun as it mocks the horror genre for many cliché stereotypes while adding a twist to its ingenious plot line. You might ask, "what happens when five college students head out into the middle of nowhere to a cabin in the woods?" You get a bloody mess and five or more killings.
14) The Collection
This movie is still hands down a horror classics. The first in this set of two films is The Collector, so we highly recommend that you watch both movies in order to get the full scare value impact and to understand the players. In the Collection, it picks up where part one leaves off as a man who escapes from the vicious grips of the serial killer known as "The Collector" is blackmailed to rescue an innocent girl from the killer's booby-trapped warehouse. The movie is directed by Marcus Dunstan and will surely have you on edge. We hope to see a part 3 soon…we want to see what happens next.
13) Hostel and Hostel: Part II:
Eli Roth's masterpiece of horror is the Hostel franchise. We recently heard that he is working on Hostel 3 during a press junket he did for his movie the Green Inferno. Roth is currently working on a remake of the film Cabin Fever, the one that helped to launch his career 13 years ago. No we didn't run out to see the Green Inferno, because the trailer was so disgusting and we could watch people be chopped up and eaten. yeah the movie is about cannibalism. Hostel on the other hand is that movie that asks, "What would you do if you could pay money and Torture and kill innocent teens"? Would you do it?
12) The Ruins:
This movie is one of those movies about teenagers always trying to disobey the warnings and end up being human sacrifices to the Gods. Director Carter Smith really brings out the fear and what if factor in this movie about a group of friends whose leisurely Mexican holiday takes a turn for the worse. They end up heading out and embark on a remote archaeological dig in the jungle where something evil lives among the ruins. This movie is on the disgusting tip once it kicks into third gear.
11) Quarantine:
The original one is the best in the franchise – Quarantine is about a television reporter and her cameraman are trapped inside a building quarantined by the CDC after the outbreak of a mysterious virus which turns humans into bloodthirsty killers. It actually an awesome movie that will scare you.
10. Saw (Franchise 1 – 7):
This is one of the best horror franchises from Lionsgate. It opened a new level of fear with the Jigsaw killer forcing victims to appreciate their blessings in life. In these films the victims have a choice either prove their will to live or die trying. James Wan executive produced this franchise and is currently directing and Producing The Conjuring 2: The Enfield Poltergeist. Once Wan wraps on The Conjuring 2, he will be working on Mortal Kombat remake and continuing the Saw franchise with Saw VIII. This franchise is great because all of the movies tie into one another bringing it full circle unlike the Friday The 13th films that were all over the place after part 4. If Paramount Pictures finally find a writer on the same page that they're on we hope that this time they really think about tie ins with the franchise.
9) Paranormal Activity (1-5)
Paramount Pictures started a phenomenon with the Paranormal Activity franchise. Producer Oren Peli, who directed the first of the franchise about a couple who moves into a suburban home, and becomes increasingly disturbed by a nightly demonic presence. The movie had horror fans coming out in the drods and now on October 23, 2015 the final chapter of the five installment franchise comes to a close. Well for now that is. There are two other movies that are more like spin-offs to the Paranormal Activity franchise(Paranormal Activity: The Marked Ones and Paranormal Activity 2: Tokyo Night), but they both lack in comparison to the original 5 films.
The newest sequel and final installment is Paranormal Activity: The Ghost Dimension:
8) It Follows:
Director David Robert Mitchell makes his mark as a horror film director with the sleeper horror movie on 2015, It Follows. This movie will freak you out, keep you on edge and have you feeling uneasy in large crowds or when someone starts walking toward you. It is masterfully filmed and Mitchell knows exactly how to increase the fear factor in this low-budget horror film.
7) The Gallows:
The Gallows is that perfect scare movie. It toys with the afterlife of a spirit who is out for revenge. You might say he's the modern-day Jason Voorhees, but he goes by the name of Charlie aka The Hangman. The movie is about a horrific accident during a small town school play. When students at the school resurrect the failed show in a misguided attempt to honor the anniversary of the tragedy 20 years later the soon discover that some things are better left alone.
6) Sinister:
Scott Derrickson really scared the daylights out of us with Sinister. The name itself says it all. In the first film and the best in the franchise we follow a washed-up true-crime writer Ellison Oswalt (Ehtan Hawke), who finds a box of super 8 home movies that suggest murder. What Oswalt doesn't realize is he is currently researching the work of a serial killer whose work dates back to the 1960s.The only problem is this serial killer is a demon who possess children to do his dirty work before taking their lives. The movie is very scary and makes you question what your kids are playing with. Make sure to watch Sinister 2, directed by Ciarán Foy once it comes out on Blu-Ray/DVD.
5) Insidious: Chapter 3:
This film is a prequel set before the haunting of the Lambert family that reveals how gifted psychic Elise Rainier reluctantly agrees to use her ability to contact the dead in order to help a teenage girl who has been targeted by a dangerous supernatural entity. It's the third installment in the Insidious franchise and we have to say one of the scariest. Insidious and Insidious: Chapter 2 were scary, yet interesting, but Chapter 3 helps us to learn how it all got started. It answers who the lady in black in and more. Director Leigh Whannell out did himself with Insidious: Chapter 3
4) The Conjuring:
Director James Wan knows how to scare you. This movie is the perfect ghost story, a haunting to be exact. The movie follows Paranormal investigators Ed and Lorraine Warren work to help a family terrorized by a dark presence in their farmhouse.
3) Oculus:
Now at first we were like Oculus isn't that scary until we decided to watch it alone one night. In our home we have mirrors in every room and after watch Oculus we wanted to get rid of all of them. What lies on the other side of the mirror? Is it an alternative reality or is it our worst fears? Is it a portal to the afterlife? Yeah all that crap was running through our minds and we were like F that.
If you haven't seen Oculus, you need to. The movie is directed by Mike Flanagan, who just wrapped production on Hush and currently filming Ouiji 2. The movie follows a woman tries to exonerate her brother, who was convicted of murder, by proving that the crime was committed by a supernatural phenomenon.
2) Texas Chainsaw Massacre (2003)
Its one of Michael Bay's best movies in his Horror remakes – the film is truly a masterpiece of horror. It will send chills up your spin thanks to director Marcus Nispel. The re-imagining of Tobe Hooper's classic film is superb. There is only a handful of movies like this that will leave you turning on lights and scared to walk out into the darkness. This is the movie that launched Jessica Biel in to movie stardom on the big screen.
1) Evil Dead (2013)
Director Fede Alvarez truly took a horror movie cult classic and increased the scare and gore value by 200%. This movie is blow you away. It not only scary – it has moments of disgust, grotesque images and extreme violence that will take any horror fan over the edge. This is the movie to watch on October 31, 2015 right. And if you're a REAL Evil Dead fan, it's the same night Ash Vs The Evil Dead kicks off is series on Starz.
Oh yeah, we almost forgot, the new series is directed and created by horror master and visionary Sam Raimi. The man who started the Evil Dead franchise, so it MUST SEE TV if you have Starz.
What do you think?
Do you agree with CelebNMusic247.com's 15 Horror Movies To Scare You For Halloween?