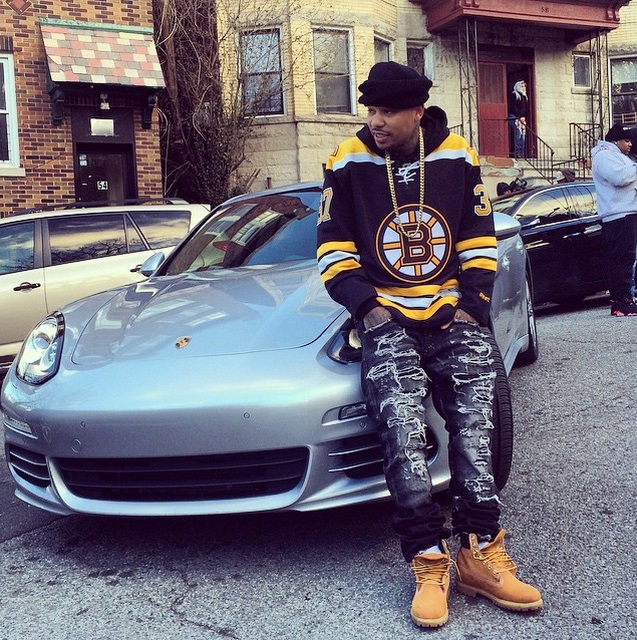 10 Things You NEED To Know About Chinx Murder!!!
With all the reports surfacing on the Internet, CelebNMusic247 wants to catch you up on what we've learned with 10 Things You NEED to Know about Chinx Murder.
On Sunday, the hip hop community lost another rapper way too soon, Lionel Pickens aka Chinx Drugz was the next big thing to come out of Queens. The "Dope House" and "I'm A Coke Boy" rapper lost his life shortly after performing at a club in Brooklyn New York.
Here are the 10 Things You NEED To Know About Chinx Murder, CelebNMusic247.com reports:
– Chinx performed at Club Red Wolf in the BK (located on 1546 62nd Street in City State Brooklyn, NY Zip 11219) at 2:30 a.m., just hours before the shooting.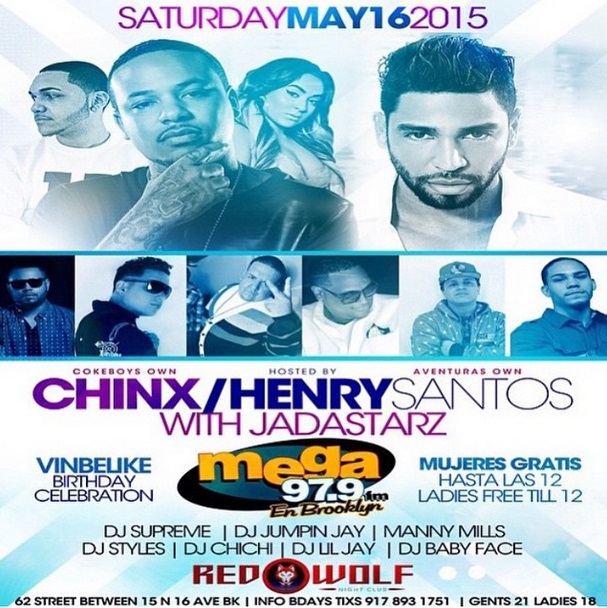 [rpi]
– Red Wolf club manager, Luis Lopez told the Daily News:
"He was very good…He was here with four or five guys…Then he left. He didn't fight with anyone."

"I got the news by the (club) promoter. To be in my establishment and then … It's crazy, man. It's really crazy. I was shocked to hear the news," Lopez said.
– He and his two friends tried to attend a hookah lounge after performing but the lounge was closed so he was on his way to drop off his passengers, but he never made it.
– The gunfire erupted on Queens Boulevard at about 4 a.m.
– Chinx was driving his silver Porsche Panamera near 84th Drive in Briarwood. At least seven bullet holes could be seen on the front and rear driver-side windows.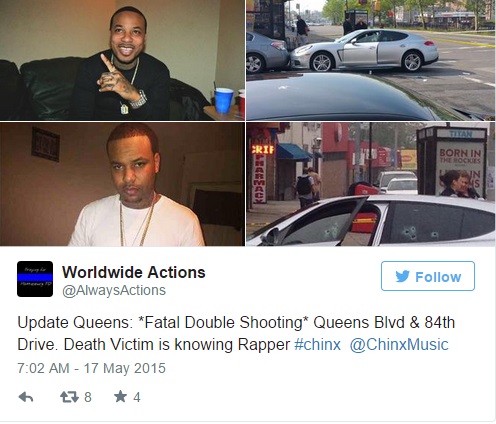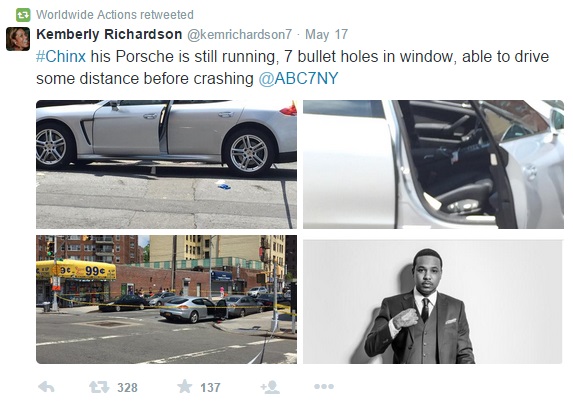 – Meanwhile a witness told the Daily News that the rapper appeared to be lifeless when police arrived. Bibekanada Das, told the newspaper:
"The police came and they opened up the door…All you could see was the guy laid out in the seat."
– Police are checking surveillance cameras in the area for clues, according to Pix11.
– A man took to social media shortly after Chinx was reported dead by drive-by.  The man was boasting how he was the shooter, posting a photo of himself with handful of bullet. (If this is the killer, police NEED to take him down)!
NOTE: The police only found 12 rounds out of the 15 shots Lionel took to the chest, neck and body before passing.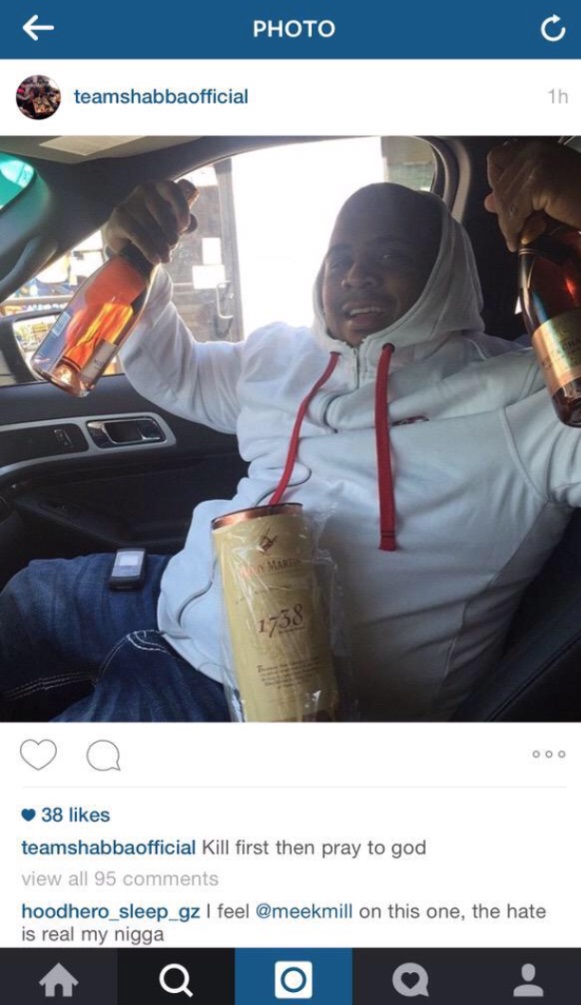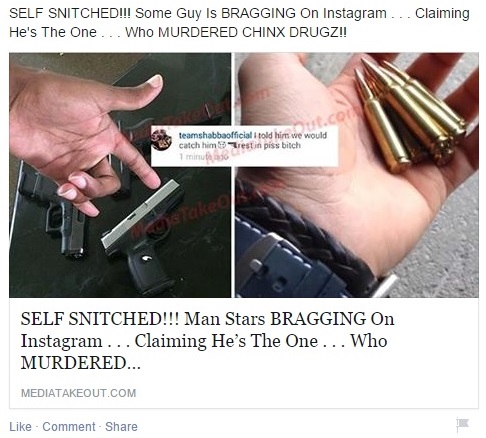 – It was also said that Chinx tried to drive his Porsche to a nearby Dunkin Doughnuts, where he passed early Sunday morning, reported Time.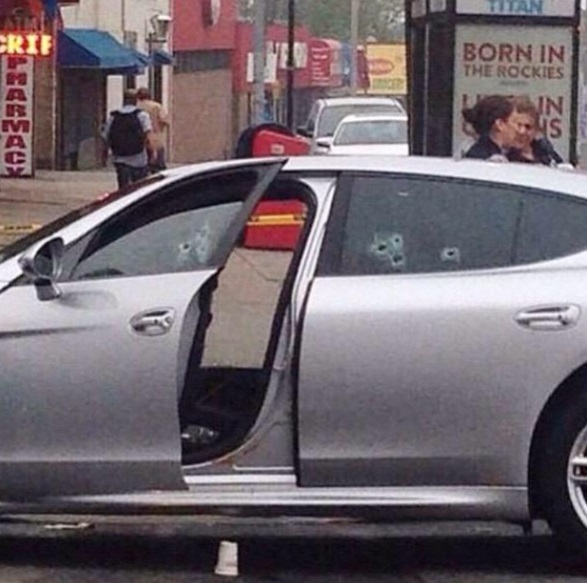 – Legion Media Group said in a statement posted by ABC 7:
"It is with a heavy heart that The Legion Media Group and 4 Kings Management announce the passing of Lionel "Chinx" Pickens this morning. He was 31. Few details are available about his passing but his management confirmed his passing this morning. The rapper from Queens, New York was a member of French Montana's Coke Boys. Chinx's dedication, humor and vision will always be remembered 'Chinx was one of the most talented, professional, and determined rappers this industry had to offer,' said Publicist Chanel Rae, 'Further more, he was a friend."
– Chinx was born in Far Rockaway, Queens and started rapping at a young age.
"(I) started rapping at the table in junior high school for fun with the homies and then by 9th grade is when I started taking music seriously. At that point is when I started investing my street money into my studio time and trying to find my sound," he told XXL Mag.
We will keep you posted…
What do you think?